Scrobbling My Music …


I just topped up my monthly subscription to last.fm, this time I renewed for the full 12 months. Over the last few months I've become pretty much addicted to it.
Last.fm is an internet radio station that adjusts itself to your taste in music. It does this by collecting feedback on which tracks you skipped, and which you marked as "loved". You can listen to it over the web using a flash-based client, there is also an Android client that works quite well. You can also install a plugin into your existing music player, and it then analyzes what music you play from your own collection. The process of grabbing your music history is called scrobbling, and I can scrobble from the Rhythmbox music player on Linux, and also the standard Android Music Player on my phone.
With all this collected info, it does the "people who liked also liked " analysis, and comes up with recommendations into a playlist especially for you. Being internet radio, it's different from playing music on demand, in that you don't actually pick a specific song to play, rather last.fm creates dynamic "radio stations" or a playlist tuned to your various likes for you. You can skip the current song if you don't like it, but, like real radio, you never really know what's coming next, which adds to the "freshness" of the experience.
I also found a last.fm app for facebook, so now you all can see sha's music charts: my top artists, albums and tracks (it's on a tab in my Facebook Profile) which get updated automatically in real-time. It also displays what I'm currently listening to (that leaves me with only the car if I want to listen to some music "unmonitored").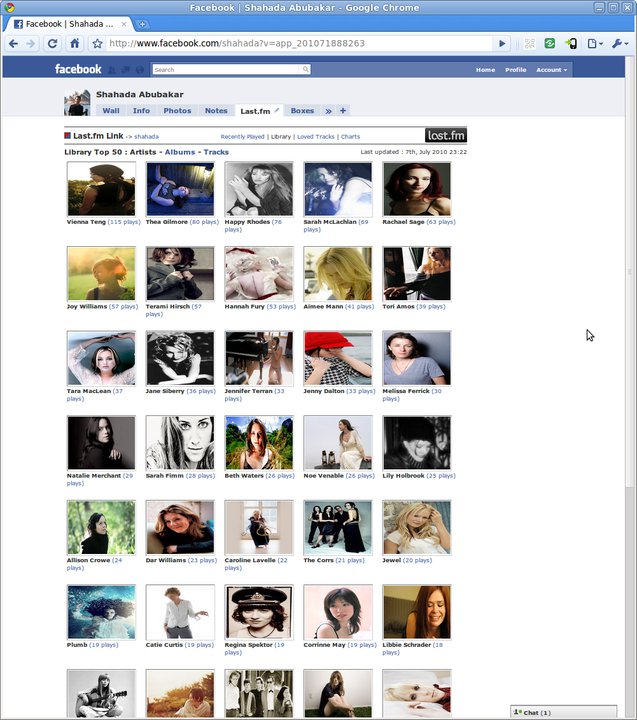 My Top Artists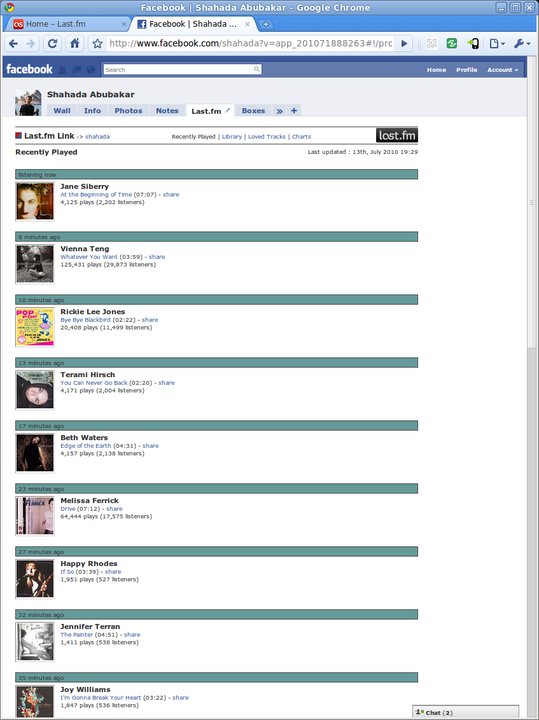 My Recently Played Tracks
PS: there's also a social aspect to last.fm in that it can help you find friends with similar musical tastes … which you can filter down to people who live near you. Unfortunately, in my case … nobody around here seems to match my tastes at all!
http://www.last.fm
This post was originally published as a Facebook Note at 2010-07-14 01:34:25 +0800.