Poslaju EziBox
I ordered some items locally recently which were sent to me by Poslaju. Nobody was home when they tried to deliver, so they left the usual note to collect at the Kelana Jaya Post Office.
But then I received the following SMS "RM0.00 Untuk kemudahan anda, item Pos Laju EN859946970MY kini di EziBox @ PO Kg Tunku. Sila ambil sebelum 12/4/2017 7:14:52 PM. No. PIN: 309347. Dari, Pos Laju" ("For your convenience, your PosLaju item EN859946970MY is now at EziBox @ PO Kg Tunku. Please collect before 12/4/2017 7:14:52 PM.  PIN No: 309347. From Pos Laju").
 It seems this is a new service whereby if your items are undeliverable, they are kept in an electronic locker where you can collect them at any time, totally self service, and not dependent on the Pos Laju / Post Office operating hours. So off I went to Kampung Tunku Post Office. The EziBox is located outside the post office, and accessible via the 7-11 next door (which means you can still get there when the post office is closed).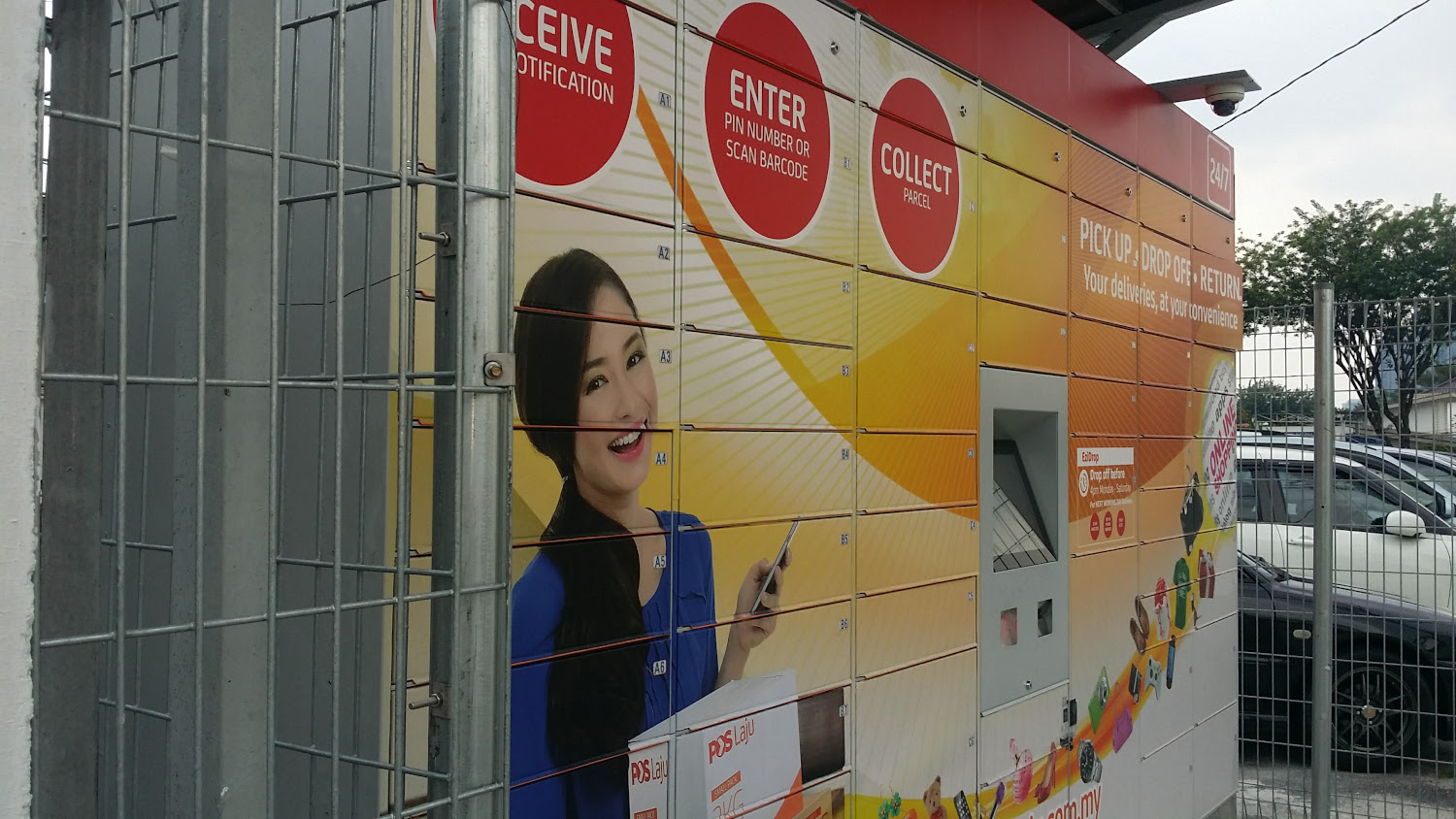 The system consists of a number of lockers of different sizes, and a touch screen computer terminal. To collect your parcel, you either enter the tracking number from your SMS, or let the terminal scan the barcode on the collection slip. You then have to key in the PIN number (it appears this is always only SMS'd to you, so the sender would need to have supplied your mobile number), followed by your name and IC number (no checking for this, it's similar to what you sign on the receipt when they deliver to your door).
Next one of the locker doors will pop open, and you can collect your parcel!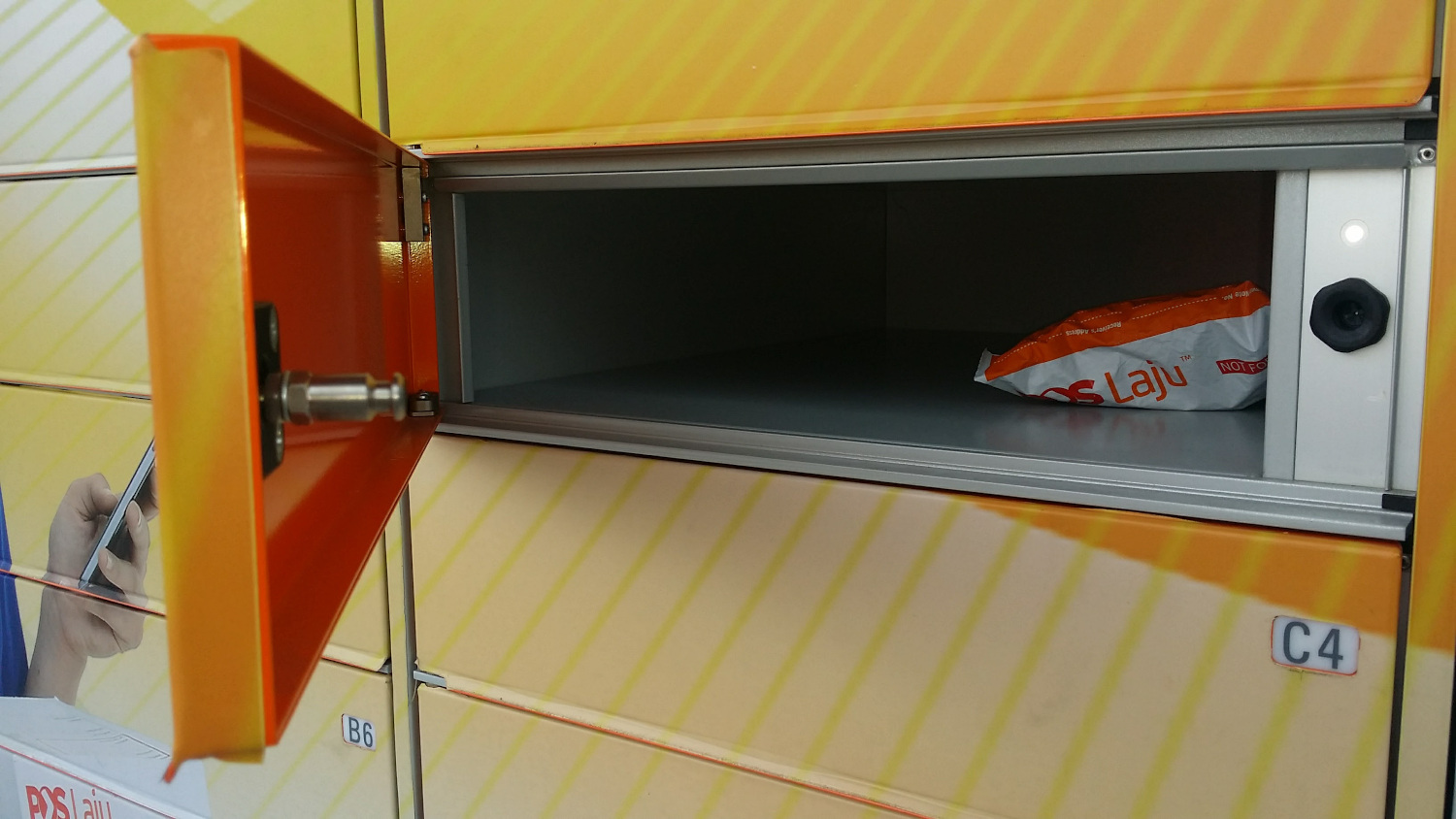 Once you are done, the system will print out a collection receipt. And a few minutes later, you'll get an SMS to confirm that your item has been collected.
There is also a facility to drop off parcels (I presume these have to be Pos Laju Prepaid only). The entire system is solar powered and has lighting at night, etc … it appears to have been design no require minimal infrastructure and so can be placed easily at convenient locations.
My thoughts:
The integration with the delivery system needs to be improved (the note they left said the package can be collected at Kelana Jaya, so if I missed the SMS I would have gone there, only to be redirected).
It's also quite dependent on the sender writing down your mobile number correctly on the consignment sheet … failing which someone else could run off with your parcel — but then again these days so many things are dependent on your mobile SMS being secure, so this is not much different.
It takes some time to key in your name and ic number on the touch screen, which may result in queues. It might be better if they just scanned your IC for this portion. This won't help with securing your parcel (the parcel doesn't have your IC details to match to) but at least if someone ran off with your package their IC could be traced. Would be a problem for those with no IC though.
It would be helpful if we could request for parcels to be delivered straight to the Ezibox without bothering to try delivery at home. For people who are not at home during the regular delivery hours, this might save some time off, and it would mean less work for the delivery guys too.
Overall, good job, Pos Laju! I love it and hope they roll out this facility to more locations! Almost all my shopping is done online these days and it's great to see Pos Laju taking steps to make this more efficient and convenient.
Originally created with EverNote at 20170412T161003Z