The Day Of The Doctor
Here in Malaysia, UniFi HyypTV's BBC Entertainment (Channel 614) is showing back-to-back episodes of the current season of Doctor Who today, leading up to Ep 8 "The Name of the Doctor" at 20:18 tonight, followed by a documentary "Doctor Who Explained" at 21:03pm.Then it's … The Graham Norton Show … some torchwood episodes … more filler … and finally:
3:50AM
Doctor Who: 50th Anniversary Special: The Day of the Doctor Series 8, Episode 1
Explosive 50th anniversary special revealing the Doctor's dangerous past. Starring Matt Smith, David Tennant, Billie Piper and John Hurt.
http://www.bbc-asia.com/schedule/?date=2013-11-24
So the dilemma … (1) stay up and be part of the worldwide simulcast and annoy my neighbours with the loud TV or (2) grab the torrent in the morning and watch over breakfast?
The dealmaker might just be the fact that BBC Entertainment on UniFi is NOT in HD and seems to have some weird aspect ratio issues.
---
LINK: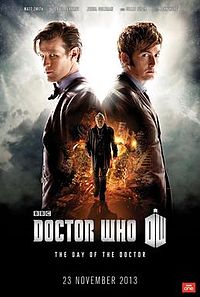 The Day of the Doctor – Wikipedia, the free encyclopedia
---
Comments (6):
2013-11-24 03:50:32+0800 shahada abubakar 3:50AM … ALLONS-Y !!!!
2013-11-24 03:54:35+0800 shahada abubakar Ooh … retro intro!
2013-11-24 05:11:39+0800 shahada abubakar Loved the last scene … now for a hundred questions!
2013-11-25 09:43:33+0800 Syajarun Dadameah i did switch on to cbeebies… nothing was on Dr. Who…
2013-11-25 10:54:19+0800 shahada abubakar BBC Entertainment is a different channel from CBeeBies …
2013-11-25 11:02:14+0800 Syajarun Dadameah I only have cbeebies and BBC knowledge…. Is BBC entertainment free?
This post was originally published publicly on Google+ at 2013-11-23 15:31:39+0800