New Toy: Buffalo WHR-HP-G300N Wireless-N Router
I'm not sure what Sunway put into the walls in our house, but I have had to put two wifi routers to get full coverage for the entire house. I have a wireless-G in my living room which reaches the front half of the house, and a really old wireless-B router in my study room, that handles the Streamyx connection and provides wifi coverage for the rear half of the house.
The wireless-B unit is a really old Prolink unit, and some of my gadgets have problems connecting to it. I stuck with it as it is one of the few routers I had that allowed mapping an external port to a different internal port number.
What with the Nexus One supposedly gaining wireless-N capability soon, I figured it was time to look into a wireless-N router. Wireless-N supposedly had better range than the earlier types, so it might solve my need for dual-wifi access points also.
After some research, I settled on the Buffalo WHR-HP-G300N: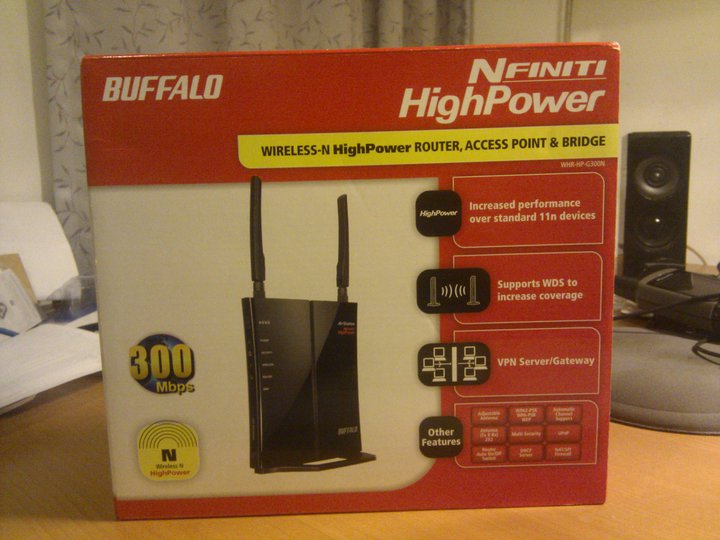 After finding it in a pricelist online, I headed down to the shop in Lowyat plaza, only to find that it was out of stock. Eventually, I found it in a quiet pokey shop towards the back of the mall (ATE Advanced Techonology, Lot 2-07, 2nd Floor, Plaza Lowyat. +60(3)2144-7813). It was selling for RM199.
There was another model without the "HP" going for RM139, but HP stands for high power, supposedly it has the radio in it is stronger and can reach further.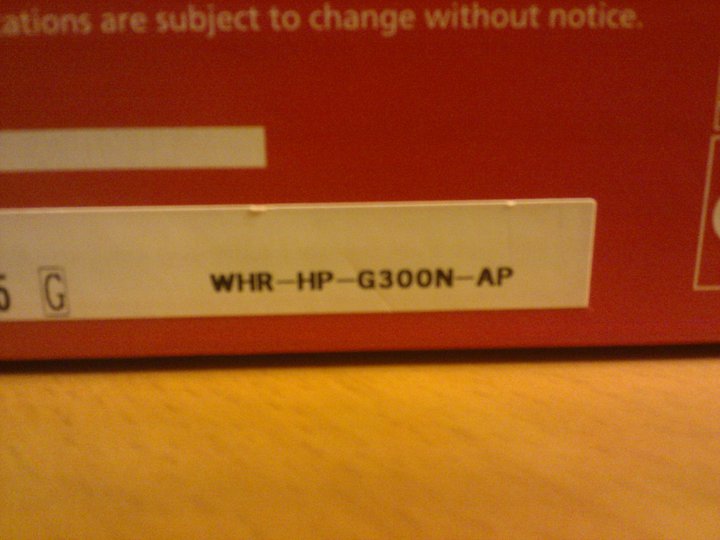 Unpacking it, here's what's in the box: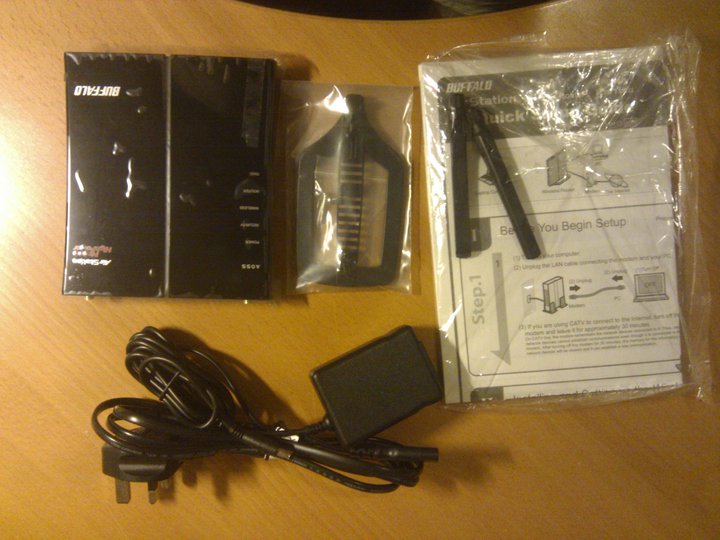 I set it up, and connected it to my network switch and streamyx modem. What followed was an hour of digging up files and repeatedly whacking at http://tmbill.tm.net.my to try and guess my streamyx password, last seen 5 years ago! I usually make it a a policy to write the streamyx login details below all the routers I set up, but this being a really old one, probably never got done.
Once I got the password, the streamyx connection came up, and Internet was back. Not for long however …
… as one of the reasons for buying this particular model of router is that you can reflash it with an open-source firmware that adds a lot more features to it. Which is exactly what I did. I started by going to the DD-WRT (http://www.dd-wrt.com) and clicking on router database, and entered the model of my router.
You then get to download two firmware files, the first is used to replace the buffalo firmware with an earlier version of dd-wrt, and the second upgrades it to the current stable release of dd-wrt.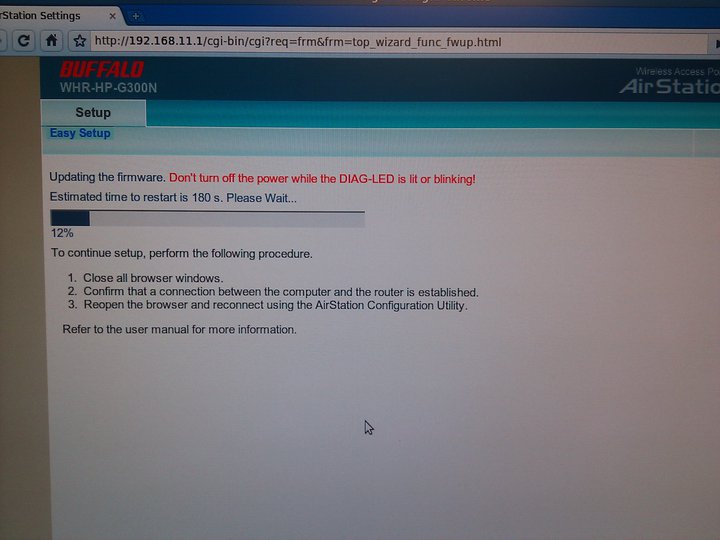 Note: The site strongly recommend doing a 30-30-30 reset (read this thread) before and after flashing any firmware files.
Upon flashing, the red light came on the router: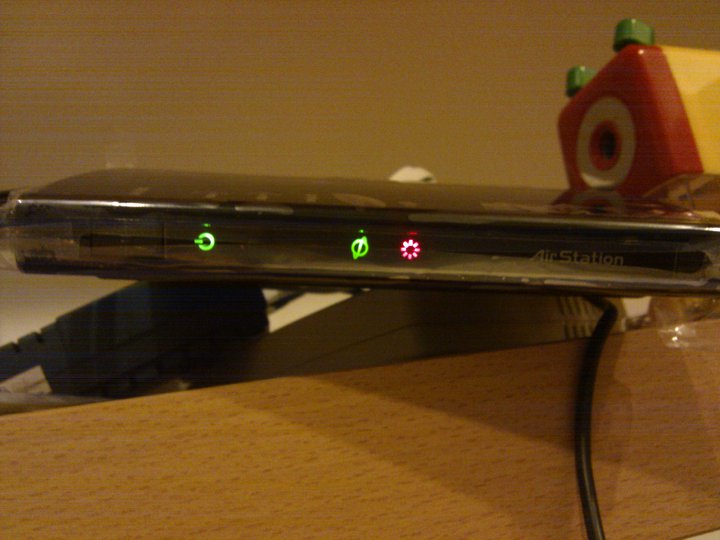 And shortly thereafter, my new router was running dd-wrt: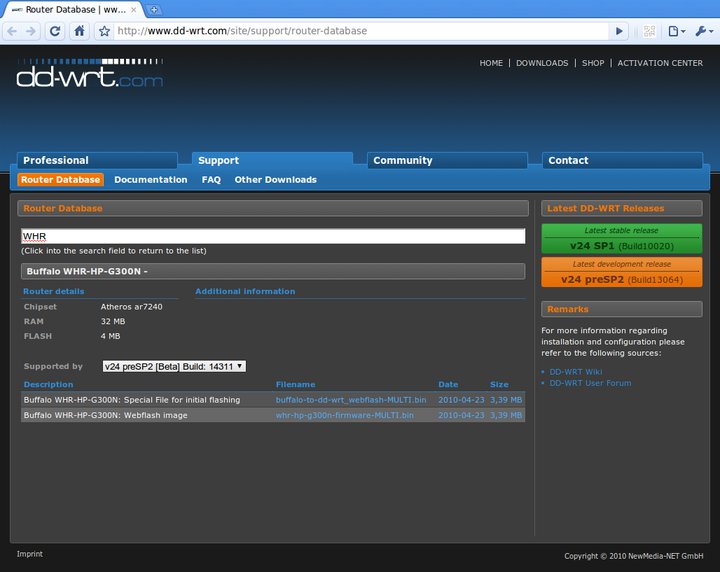 There are a lot of neat, advanced features in DD-WRT, so if you love tweaking things this is definitely for you. The first thing I did was setup my DHCP IP addresses for my regular equipment.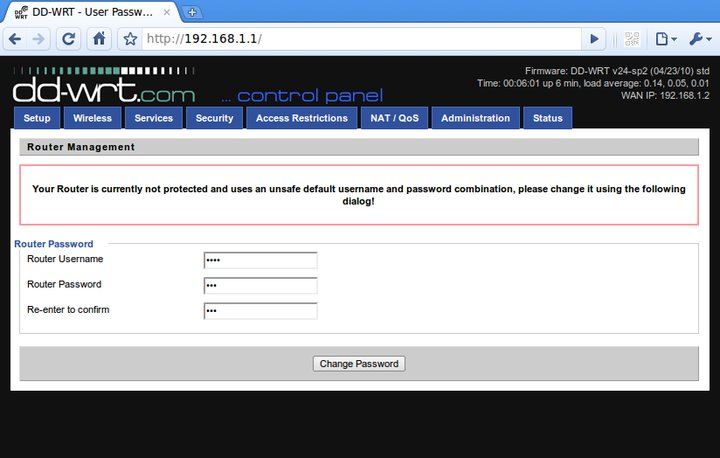 You can also set it up to allow you to ssh into the router and play around with things: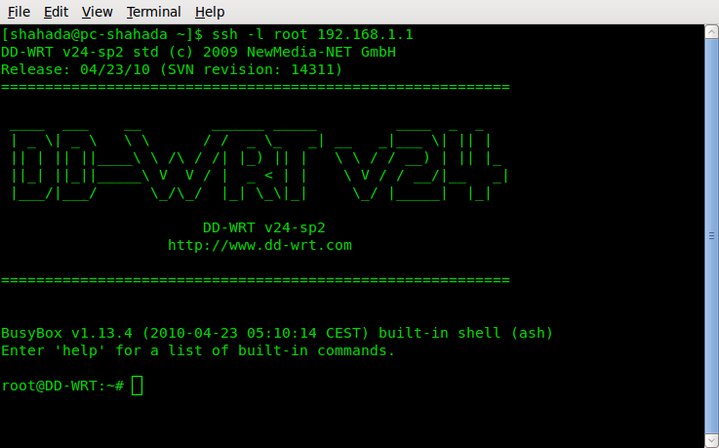 There is a dyndns.org client in the router itself, which can replace the dyndns client software I have running on my PVR PC.
The router keeps track of your daily bandwidth usage: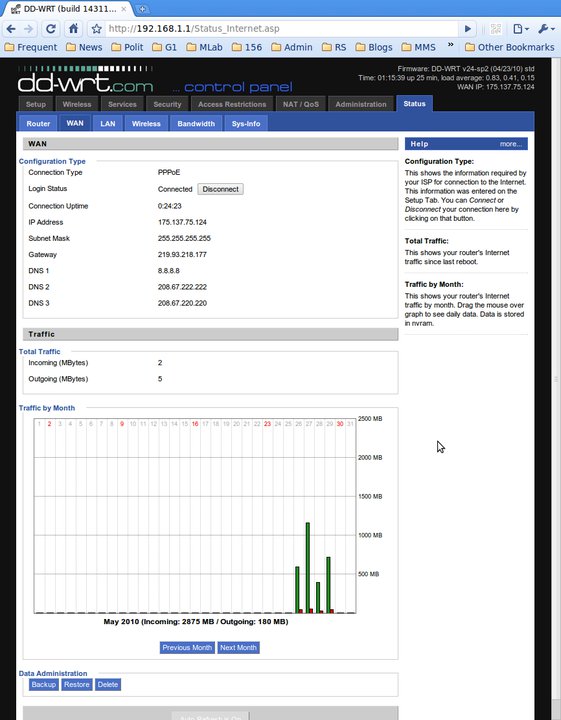 There are quite a few different "builds" of dd-wrt, the default one available for the buffalo WHR-HP-G300N is the Standard edition. Unfortunately, one of the features I was looking for, OpenVPN support, is not present in the Standard Edtion. However, Buffalo themselves are working with the author of dd-wrt to make this firmware standard on the WHR-HP-G300N, and once this "official" version is released, it is expected to contain OpenVPN support.
And the coverage? Well, I managed to stay on wifi while walking around the house with my Nexus One. I might just keep the second wifi on for fun though, as it's also being used as a network switch downstairs.
This post was originally published as a Facebook Note at 2010-05-30 01:19:54 +0800.