Jalan-jalan: Perpustakaan Raja Tun Uda, Shah Alam
Apparently, a Library is not just a collection of object code files organized into a linkable format, but is also a place where knowledge is stored in the form of "books". These books are stored in "racks" in a Indexed-Sequential Access Method (I-SAM), allowing you to browse them one by one by walking along side the racks, or looking them up in a "catalog". The "catalog" holds a summary of the key fields of the book, i.e. title, author, and category. Unlike on the Internet, there is no way to perform a full-text search against the contained knowledge.
So, with this newly discovered resource, and in line with #yorais's call for Malaysians to read more books, I found myself in Perpustakaan Raja Tun Uda, the Library in Shah Alam today. 😎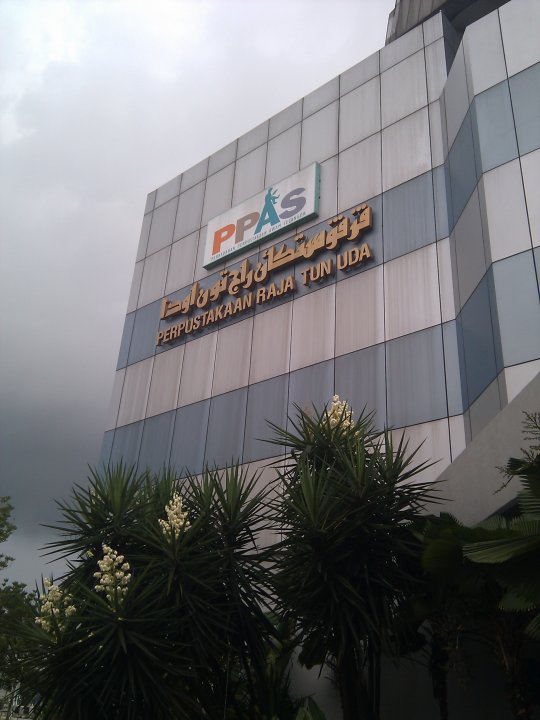 As with most other places in Shah Alam, parking is free, though it is a bit limited at the Library itself (There's a RM2 paid parking in a field across the road). For a Sunday, there were about 2-3 empty lots when we got there around 15:00.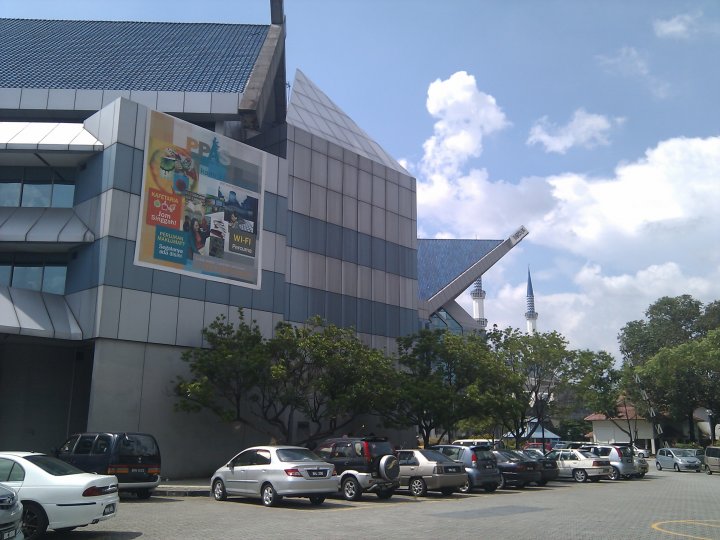 This is the entrance to the library. There's a cafeteria right next to it.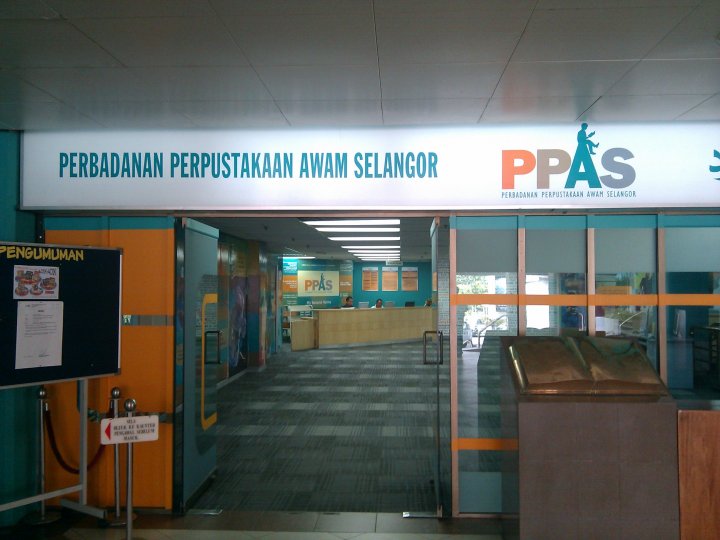 The building is quite impressive and modern-looking. I believe you can just walk in, no registration is required to visit the library, and use the on-site facilities, but to borrow books you need to be a resident of Selangor (this library is under the Perbadanan Perpustakaan Awam Selangor). You can borrow up to 3 books for up to 3 weeks (extendable once, over the phone).
Being residents of Shah Alam itself (yeah, even up here in Sungai Buloh, our address reads Seksyen U20, Shah Alam), I duly went through the registration process:
You fill in this form (apparently, you no longer need a "sponsor"):
You then present it at the counter, together with a payment of 20 sen (yes, SEN).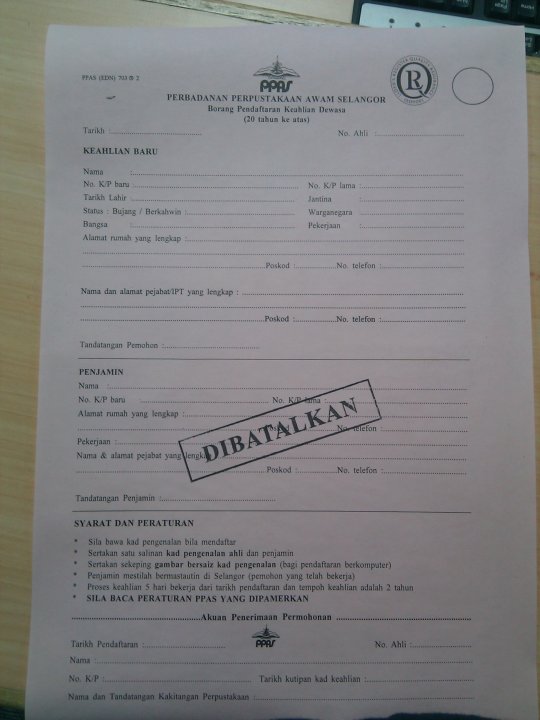 You sit at a chair nearby, where they take your photo with a digital camera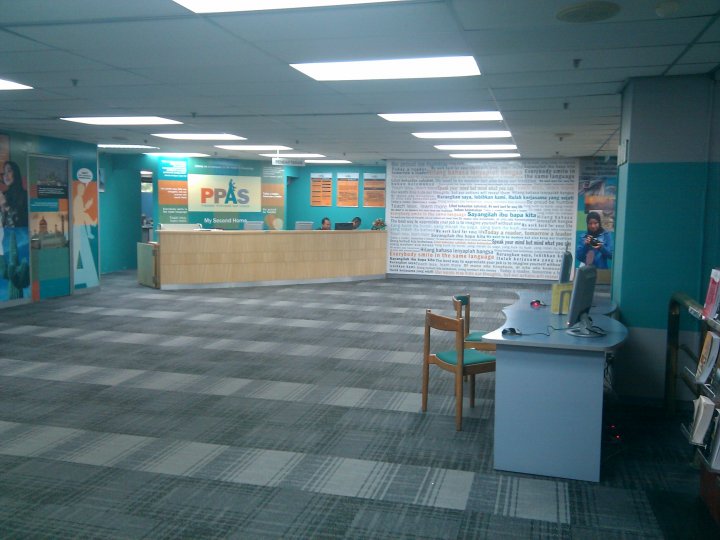 After 30 minutes, your membership card is ready for collection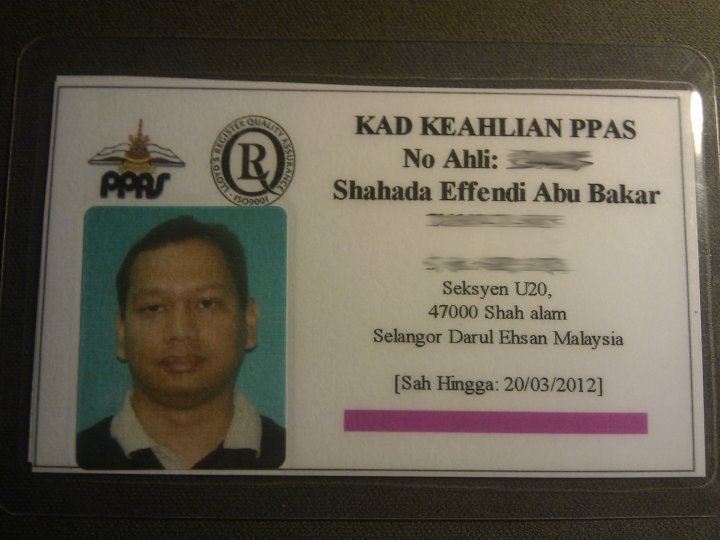 You're free to browse the library while your card is being prepared
There are three floors. As with most things Malaysian, signs and directions are secondary, so you really have to look out for them or ask.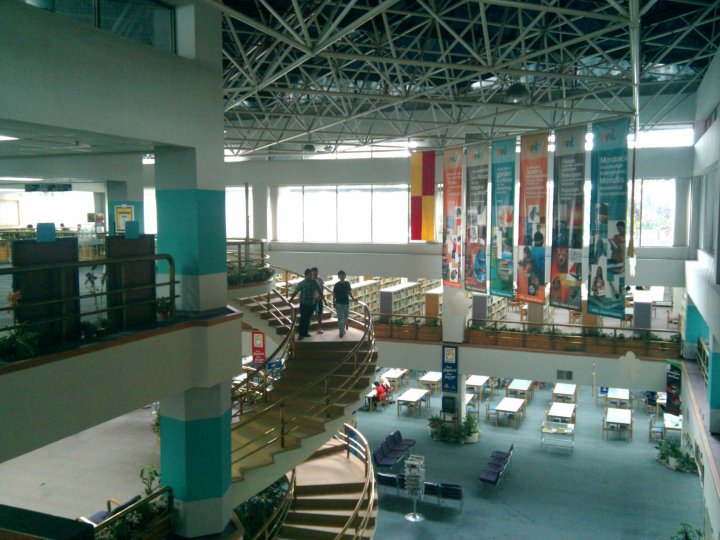 This is the card catalog section. It seemed pretty much under utilised. Then again, in the age of Google …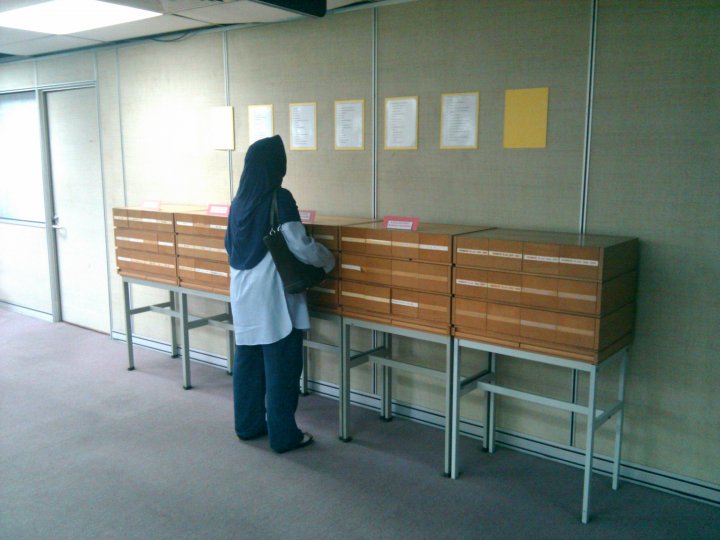 The books are organized under the Dewey Decimal system, as is any proper Library. Some sections are for reference only, and the books there cannot be borrowed out. Some sections are clearly marked, others have colour codes on the books, and for others … I guess you have to ask to know if they can be borrowed out.
I'm not sure how long this library has been in existance, but it lacks just one thing compared to most libraries I've seen: books. Yes, strangely, the collection here is not that great. I browsed mostly the non-fiction section, and I think even the Lake Club Library had more books that jumped out and caught my attention. There's a relatively larger section on books on Selangor and also Islamic Studies. It's just very disheartening to see half the bookshelves empty, and more empty space and seating space in the hall than rackspace.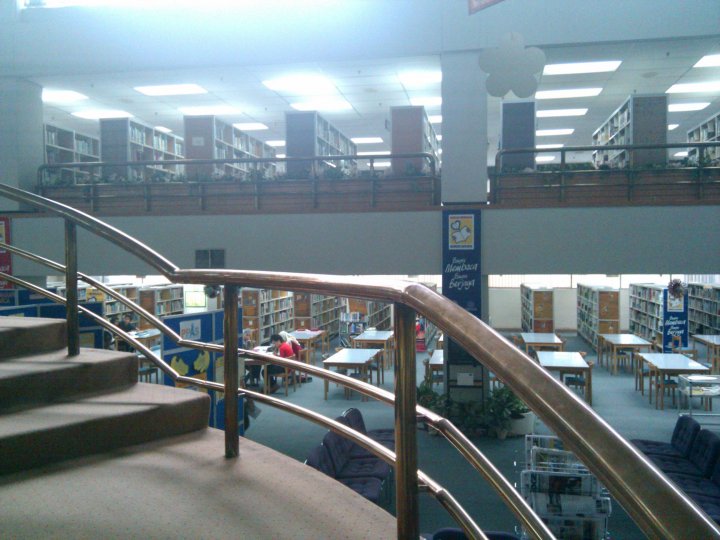 Even the section on magazines and journals seemed totally lacking … I don't think libraries usually allow magazines and journals to be borrowed out, so this should be pretty much representative, and if so, it's pretty sad — most of the shelves were empty. I think I've seen better collection of periodicals in our local newsagents.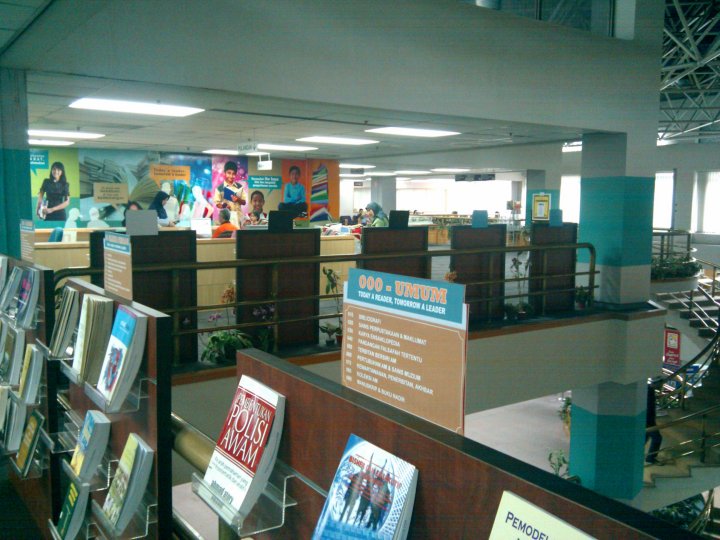 It's not a total loss however, as I discovered when visiting children's section … it's actually quite good! The shelves were overflowing with children's books, covering many different age categories. I think if I was a child, I'd be pretty happy to be left here for a whole afternoon every weekend, to spend the time reading books. Ideally, a child with an mp3 player and headphones, as some of the younger kids tend to make a bit of a racket (the children's area is in a separate section from the main library).
As you can see from the photos below, there are a lot of comfortable places to sit and read: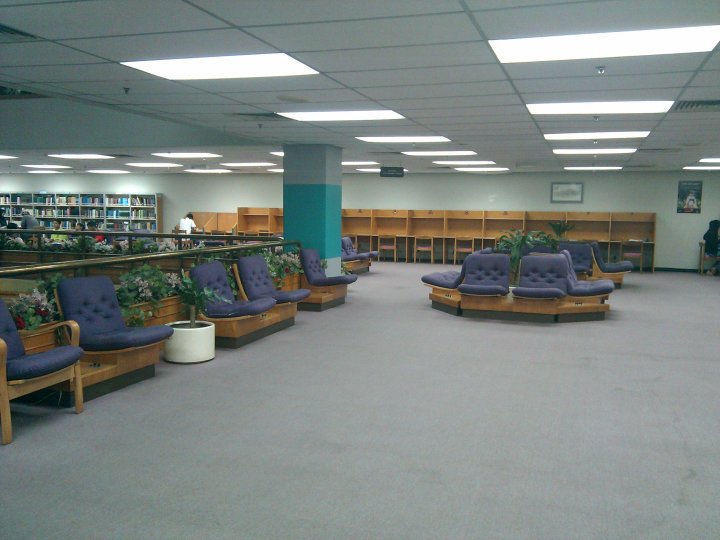 With the pleasant surroundings, confortable seating, air-conditioning, it's a great place to study …
Too great, in fact. Unfortunately, I seem to be the only one who remembers you're supposed to keep quiet in the library. While there are dedicated discussion rooms that can be booked, a lot of people (mostly students) sit at the reading tables and discuss their project work. So … you have endless chatter going on in the background.
Best to find a quiet corner, I thought. Well, so did this one other guy, who picked a quiet table far away from the rest, and had his book and laptop (there's free WiFi), and mobile phone with him. Which was not on silent. Which kept playing a stupid tune every time he got an SMS. Almost every minute or so. Maybe next time around once I'm more familiar with the place I'll have a bit more courage and go tell the guy off.
Then there are the kids. While I think it's important to inculcate a reading habit from young, it's also important to not let your kid scream and run across the main library area.
With all these distractions, I'm not to sure how conducive this library would actually be to do some quiet reading, but I'd probably be willing to give it another try. There are a few sections that I'd like to check out given more time. Probably nice to come and spend an entire afternoon here (armed with headphones and mp3, or better still, "white noise" audio software). Also I think Alia will enjoy the children's section when she's older.
If you're looking to gain any serious knowledge though, thank god there's still the Internet.
Sorry #yorais.
This post was originally published as a Facebook Note at 2010-03-22 01:38:13 +0800.