British Airways Retires 747 Fleet …
I was fortunate to have traveled a lot when I was young, as my dad worked for British Airways. Most of our holidays were spent visiting wherever British Airways flew. The bulk of these flights were on BA's 747 fleet, affectionately known as the "Jumbo Jet".
My first flight on a 747-100 (then BOAC) was on 11-Dec-1973, between London and Singapore. My last flight on a British Airways 747-400 was on 22-Mar-2001, between Boston and London.
All in all, I've flown a total of 78 flights on BA's 747s, for a total of 408,384 miles.
I've had the pleasure of sitting in the upper deck, flight deck, in Economy class, Business class, First class and once even on a cabin crew seat at the very top of the staircase for a 13 hour flight.
My fondest memories travelling as a child are listening to the adventures of Dilbert, British Airways Junior Jet Club Mascot, as narrated by Bernard Cribbins on the In-flight entertainment's Junior Jet Club show. With rubber hose headsets and all.
I would have liked to have flown on a BA 747 one more time before the fleet was retired, but the routings have not been ideal for me. Now that the coronavirus epidemic has severely reduced air travel, British Airways has decided to retire their 747 fleet early. So that is the end of that.
Farewell Dilbert, and thanks for the memories!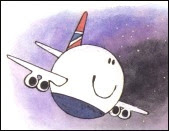 Originally created with EverNote at 20200717T180421Z