Thai-Style Spicy Tuna Pasta with Lemongrass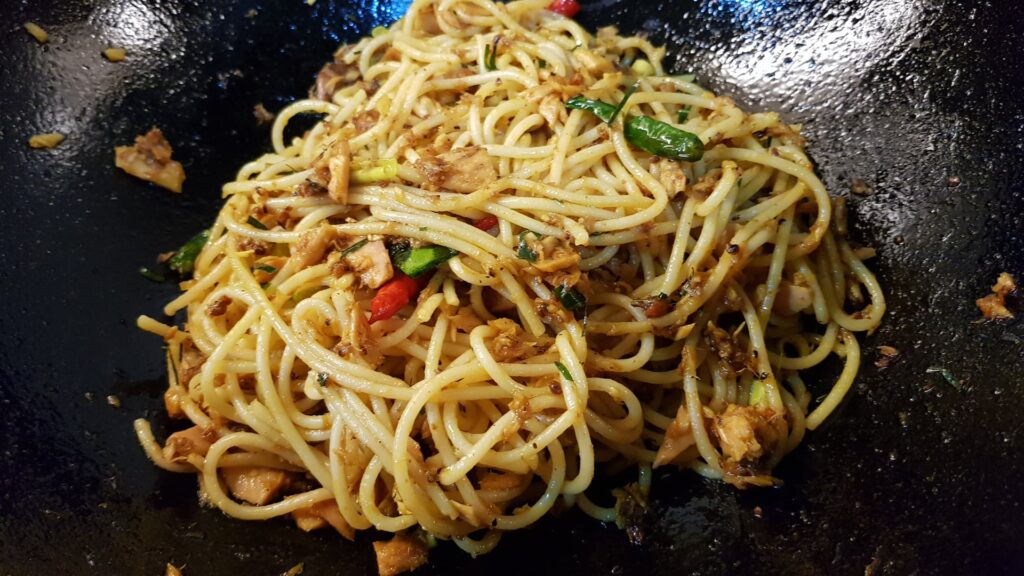 I was just going to have tuna on toast, but one thing led to another and I ended up with this.
This Pasta dish tastes very much like the "Thai Seafood Spaghetti" you get in the Secret Recipe restaurants locally.
It was inspired by Pailin of Hot Thai Kitchen's "Red Curry Stir Fry Tuna Recipe" (http://youtube.com/watch?v=dlROM9N5rak).
From start to finish this takes about 20 minutes to prepare.
The main ingredient here is canned Tuna but with a bit more effort it would go well with seafood such as shrimp and squid rings too.
---
Ingredients
1/2 tsp black pepper.
2″ piece of Turmeric ("Kunyit Hidup") . I have two here, which is probably a bit too much.This is going to stain chopping board (That's how you know you're in an Asian Kitchen 😀)
2 tbsp thai chilli paste
1/2″ shrimp paste ("belachan") or 1/2 tsp powder
a few pieces of monkey chillies (cili padi)
1 can of tuna, chunky or flakes will do, preferably in oil (not water).
Spaghetti
1 1/2 tbsp brown sugar
2 tbsp fish sauce
lime leaves (use twice the amount in the picture)
2 stalks of lemongrass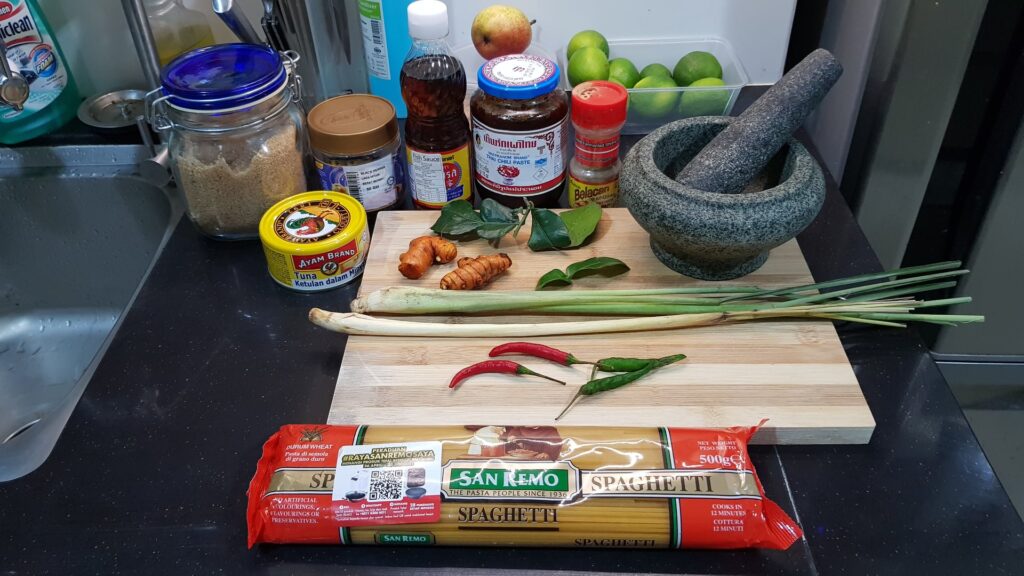 Method
Bring water to a boil, add a few teaspoons of salt, and toss in your spaghetti. I made enough for a meal for one, you can multiply the recipe as needed.
While the pasta is boiling, prepare the paste.
Begin with pounding/grinding 1/2 tsp of black pepper.
I could have just pressed a button on my Pepper Mill but I wanted to get into the mood of Thai cooking …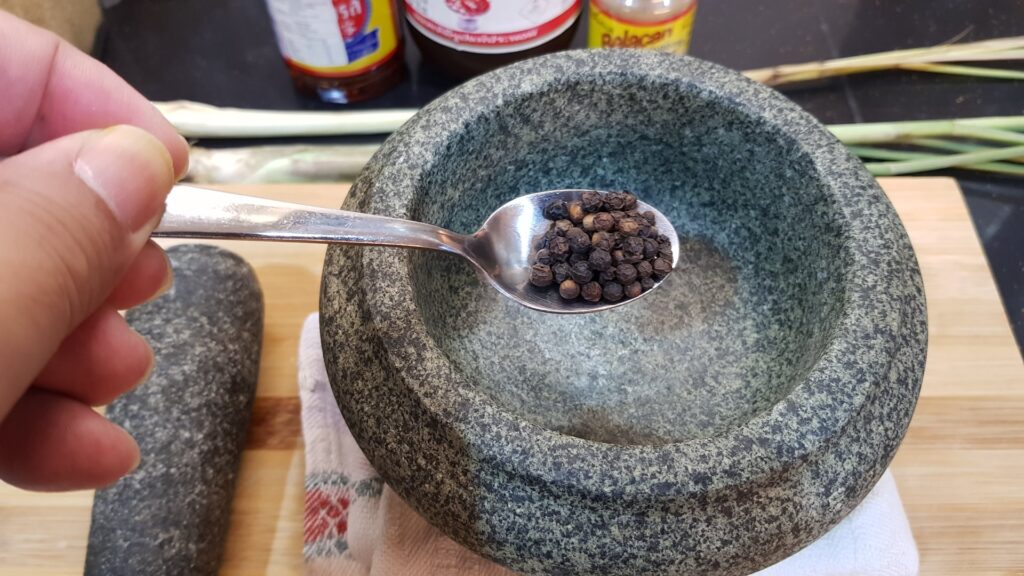 Remove the skin from the turmeric and slice it. Add the sliced turmeric into the mortar and pound them into a pulp.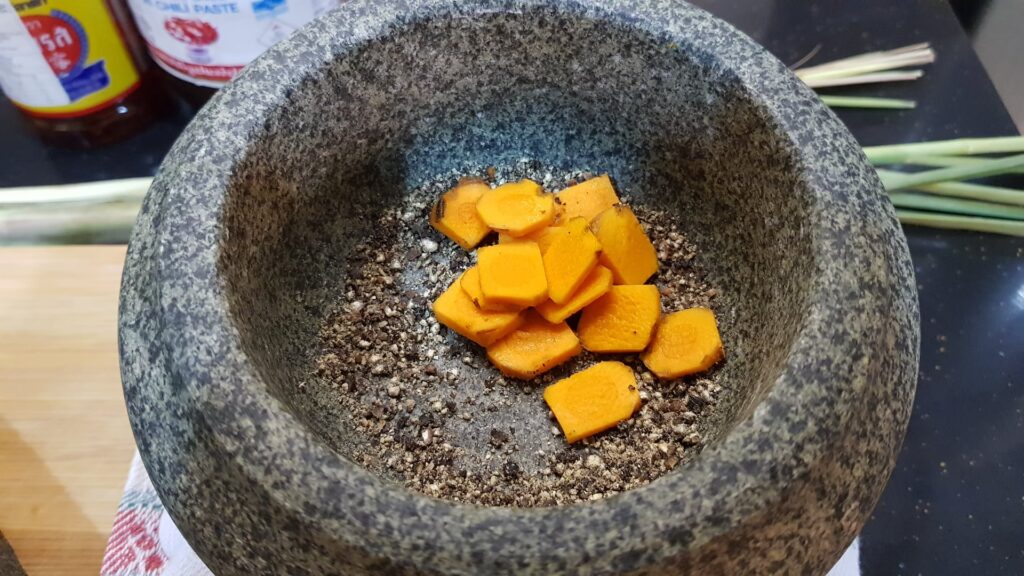 Add in the shrimp paste and pound it too ( I used 1/2 tsp of powdered shrimp paste instead as I find the taste of raw shrimp paste a bit too strong for this)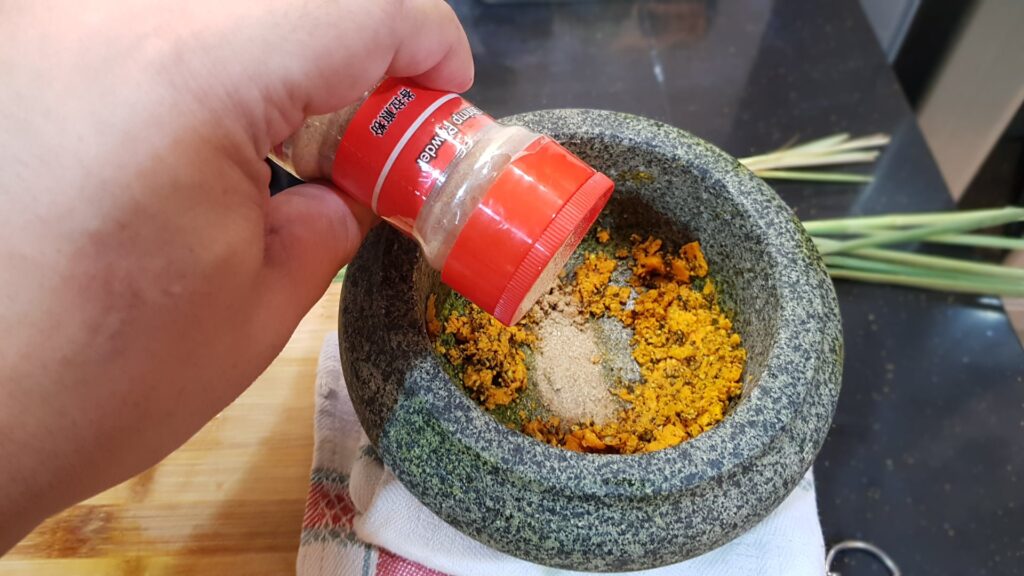 Next add in 2 tbsp of thai chilli paste.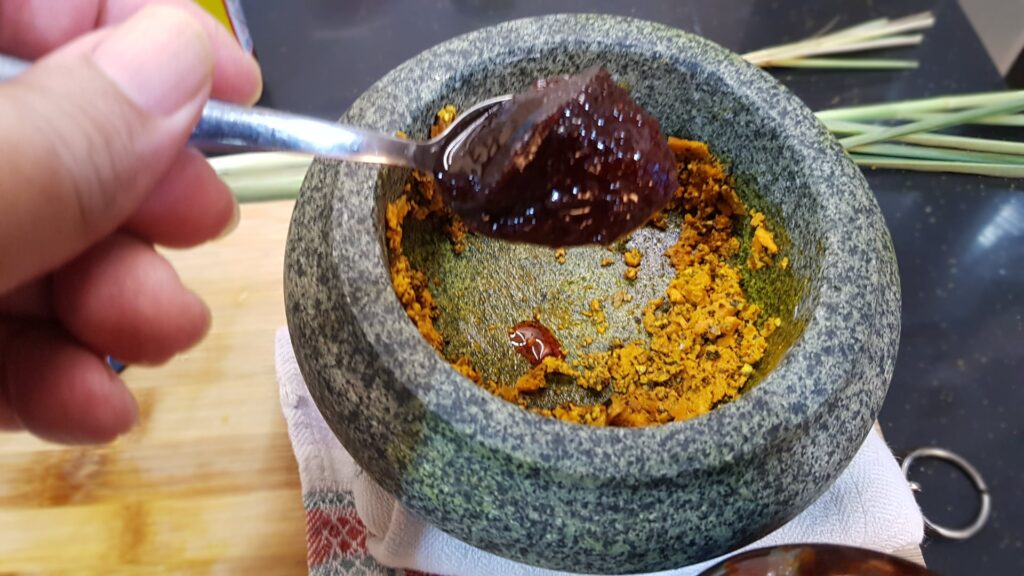 I used this Maepranom brand of Thai Chilli Paste.
If you're in Malaysia, I found a Shopee seller that imports a range of Thai goods : https://shopee.com.my/shop/167117224/search?shopCollection=38793313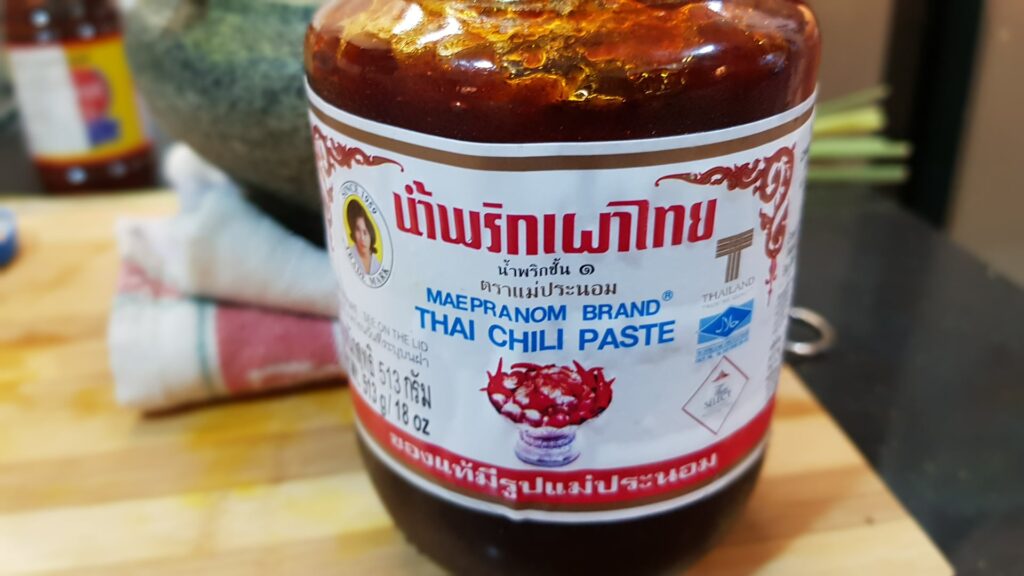 This is what the paste should look like at the end.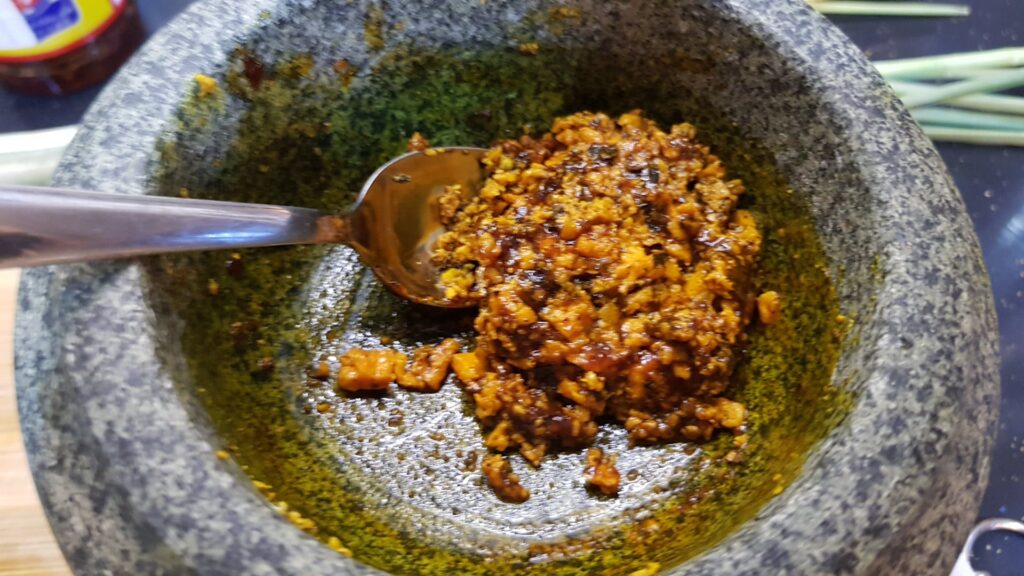 For the lime leaves, remove the leaves from the stems (if any). If the "spine" of the leaf is thick, fold the leaf in half and pull out the spine as well. We want to avoid the hard bits in our pasta.
Note: use double the amount of leaves in the picture (about 10-12 leaves).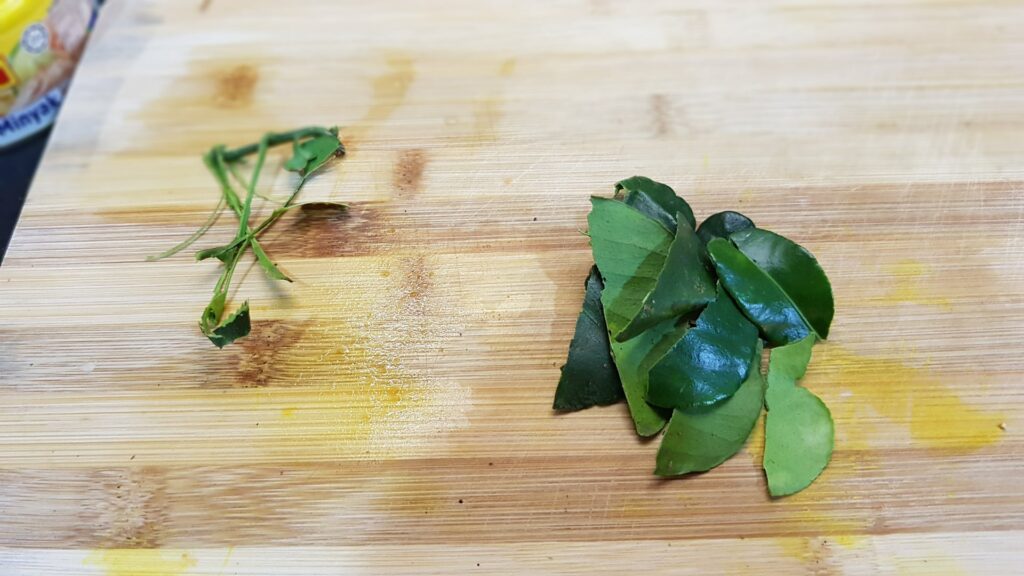 Roll up the lime leaves and slice them thinly. Try to avoid having thick bits in there.
Remove the outer layer of the lemon grass, and slice thinly.
Remove the stalks from the monkey chillies. You can either use them whole as is or slice them up if you want the pasta to be super spicy.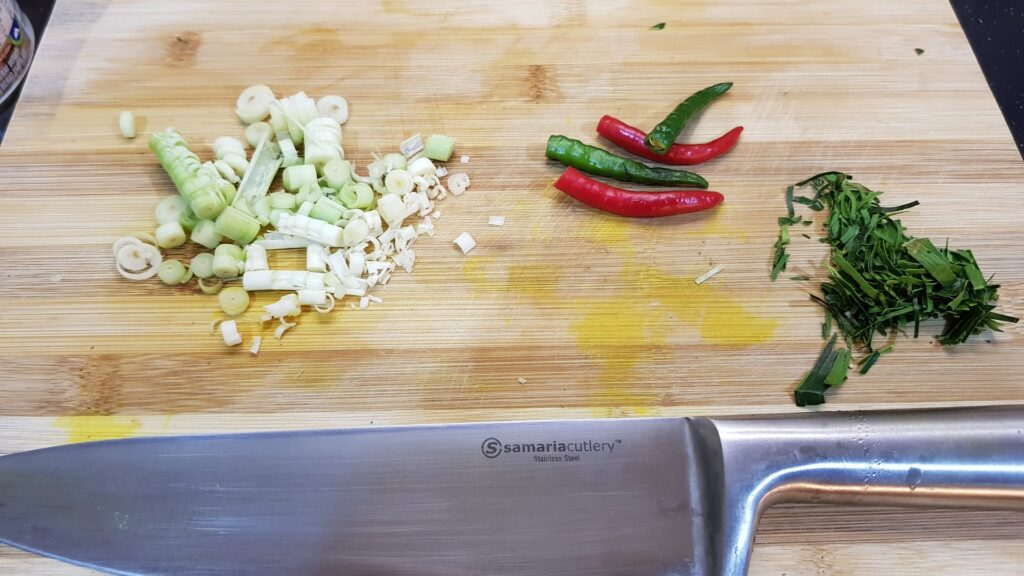 Check on the spaghetti. Once it is is "al-dente" strain it.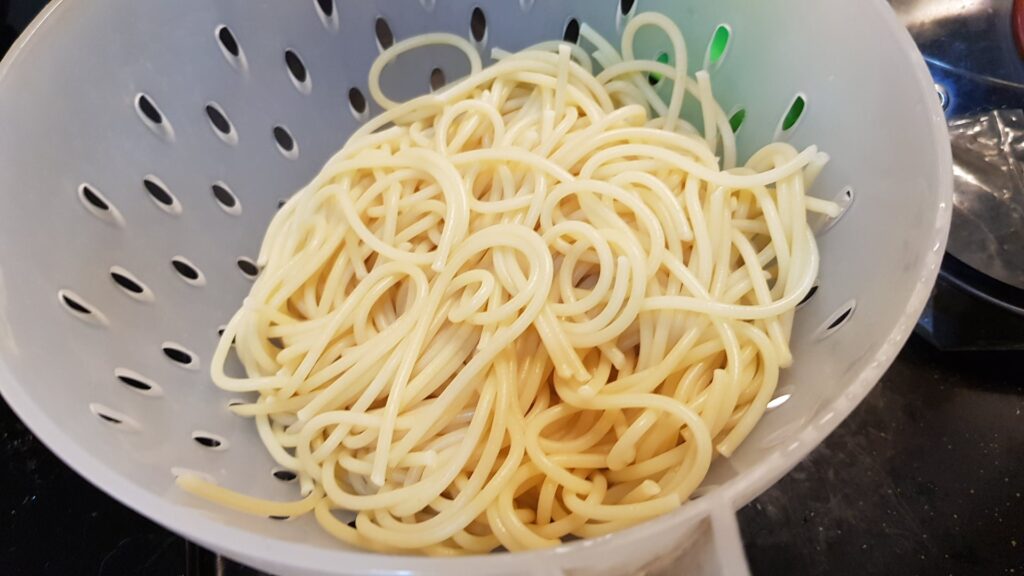 Heat up oil in a wok. I suggest using a bit less oil than I did, especially if your tuna is also in oil (if your canned tuna is in water, drain away the water from the can)..
Start by frying the chilli paste and monkey chillies.
Then add in the tuna. If your tuna is chunky break them up into flakes as you fry.
Add in the lemon grass and lime leaves.
Add in the pasta. Make sure the pasta is coated and the ingredients are mixed well. Stir well.
And there you have it : Thai-Style Spicy Tuna Pasta with Lemongrass !