Thai Tom Yum Soup with Shrimp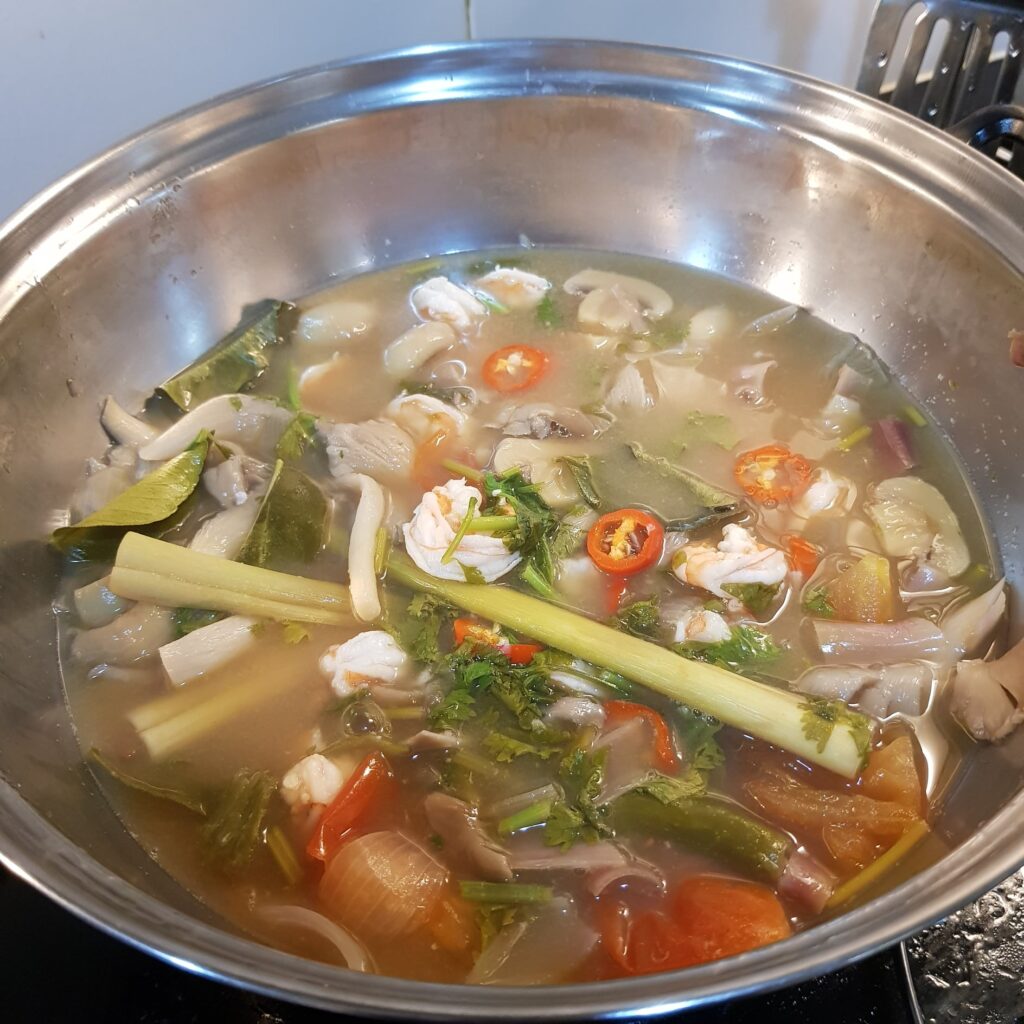 Following on from my on Pad Kra Pow and Kai Dao, here I make a Thai Tom Yum Soup with Shrimp.
I can order Tom Yum soup and have it delivered within 30 mins from a nearby restaurant for RM7.50 (USD1.50), which is very convenient.
However, the ordered stuff is often too sweet or not spicy enough and has very little shrimp or the shrimp is miniscule.
So I figured it's time I learned to make my own.
---
There are many varities of protein added to Tom Yum:
Shrimp (my favourite)
Seafood Mix (shrimp, squid, some fish fillet)
Chicken
Beef
For my first attempt I will go with Shrimp.
I used about 220g of Shrimp. Larger ones would be nice but this was all I could get from Tesco.
I removed the heads and tail and skin, and deveined them.
KEEP THE HEADS AND TAILS! We will use it to make a stock for the soup.
I put the heads and tails into a saucepan, filled it with some water, and let it boil to a simmer. Once it had reduced I strained the heads and tails out, and ran the stock through a metal sieve.
Together with the prawn shells from another dish I made earlier, I had altogether about 2 cups of Shrimp Soup Stock.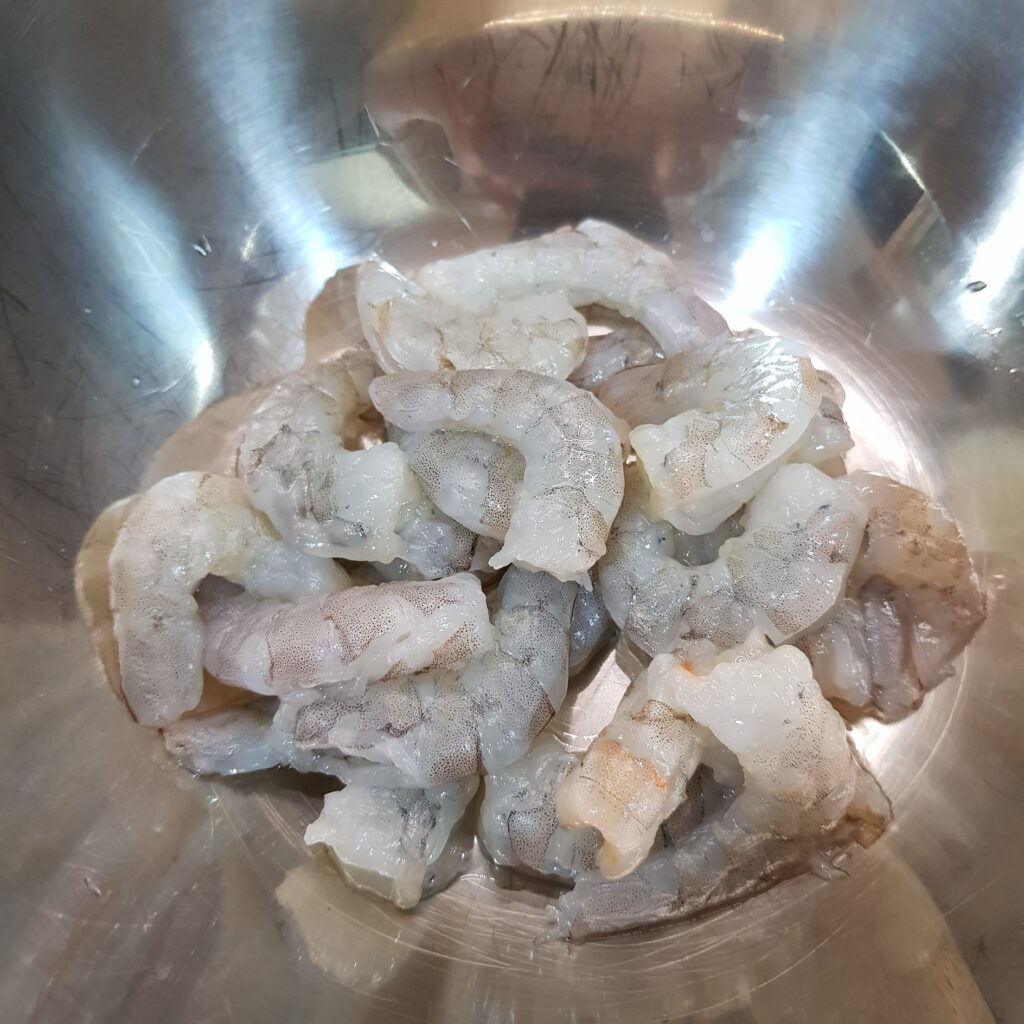 These are the other ingredients for the base soup:
Galangal / Lengkuas, about 2 inches. Chop these into smaller pieces.
Lemon Grass / Serai, 2-3 stalks. Remove the outer skin, and chop the base and head off. Make sure it fits into your pot.
a few cloves of garlic
a few monkey chillies
Kaffir Lime Leaves / Daun Limau Purut. Mine had been in the fridge for some time and had dried up. But thanks to some advice from my sister, they were still very usable (Once you put them into the soup they rehydrate).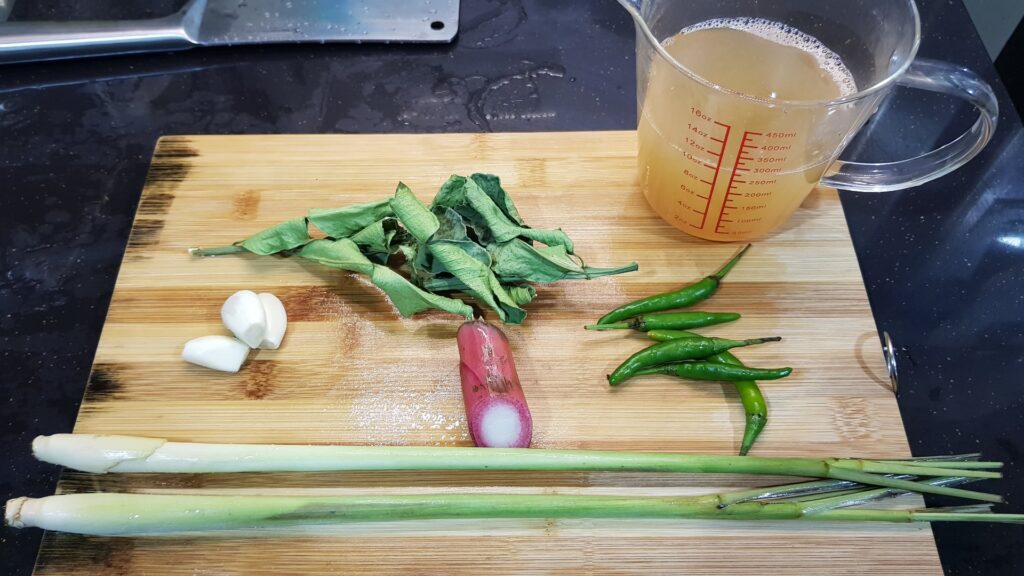 Using a pestle, smash up the lemon grass, galangal, garlic and chillies till they're bruised. This will make it easier or their flavour to seep into the soup.
Some people prefer to boil this into the stock and remove them once the flavours have infused, as we don't usually eat them. I'm fine with having them in the final soup.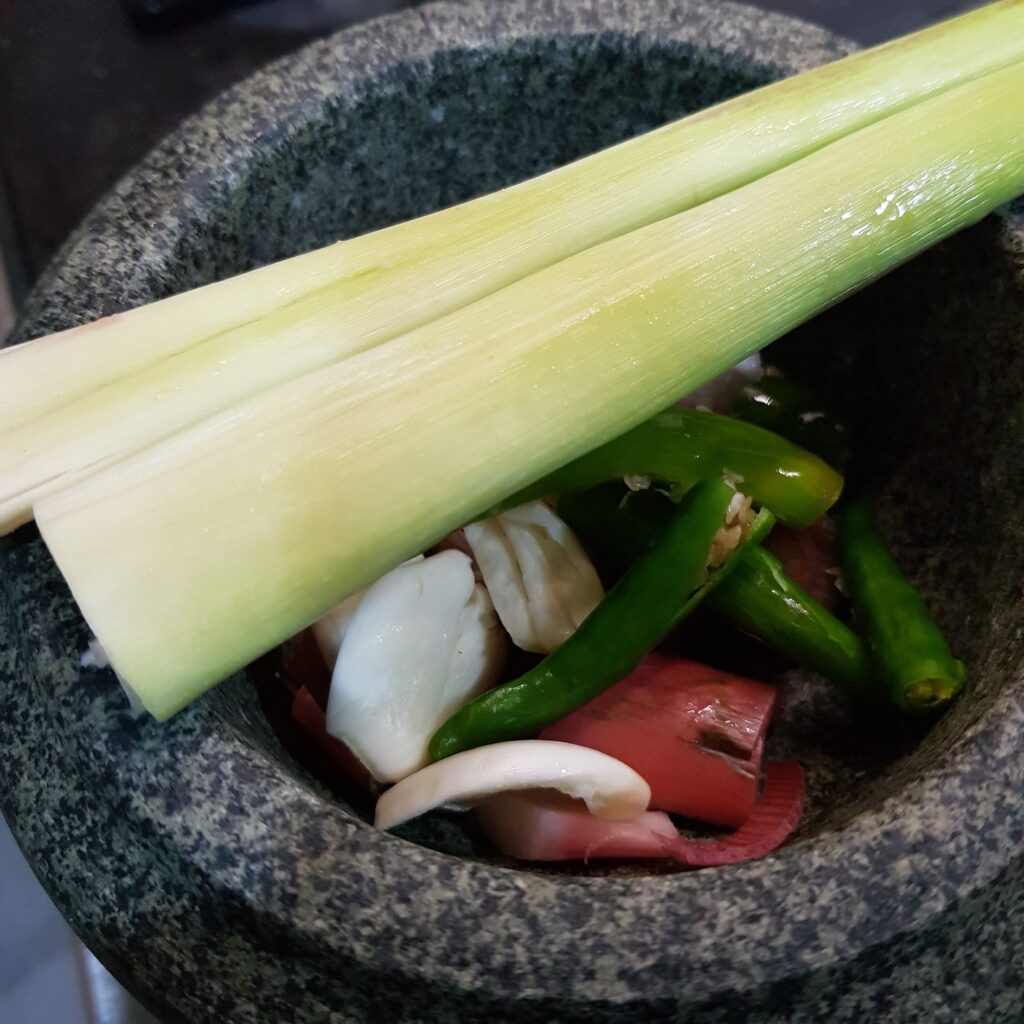 Also prepare:
1 tomato, cut into quarters
1 small onion, sliced
Mushrooms. I used two types: oyster mushrooms and the more regular (button?) ones from a tin. Slice them into bight sized pieces.
Add all the ingredients (except the Shrimp) into a pot with the stock and bring to a boil. Add some water if the ingredients aren't fully covered. Let it boil for a few minutes so the flavours seep into the soup.
Now for the part that requires a bit of skill and experience. Add to the pot:
1 tablespoon of Fish Sauce (Nam Pla) for saltiness
1 tablespoon of squeezed Limed juice for sourness
1 tablespoon of sugar for sweetness.
This is just to start with !
Stir everything and let it boil for a minute. Now scoop out a bit, blow in it to cool it down, and have a taste.
Add more of each of the above ingredients until you achieve the perfect Tom Yum taste.
I ended up with about 5x some of them, and while it came close, it was still not perfect. But acceptable, for a first time!
Once you've got it perfect, don't let the soup reduce much further, as this will intensify the flavours.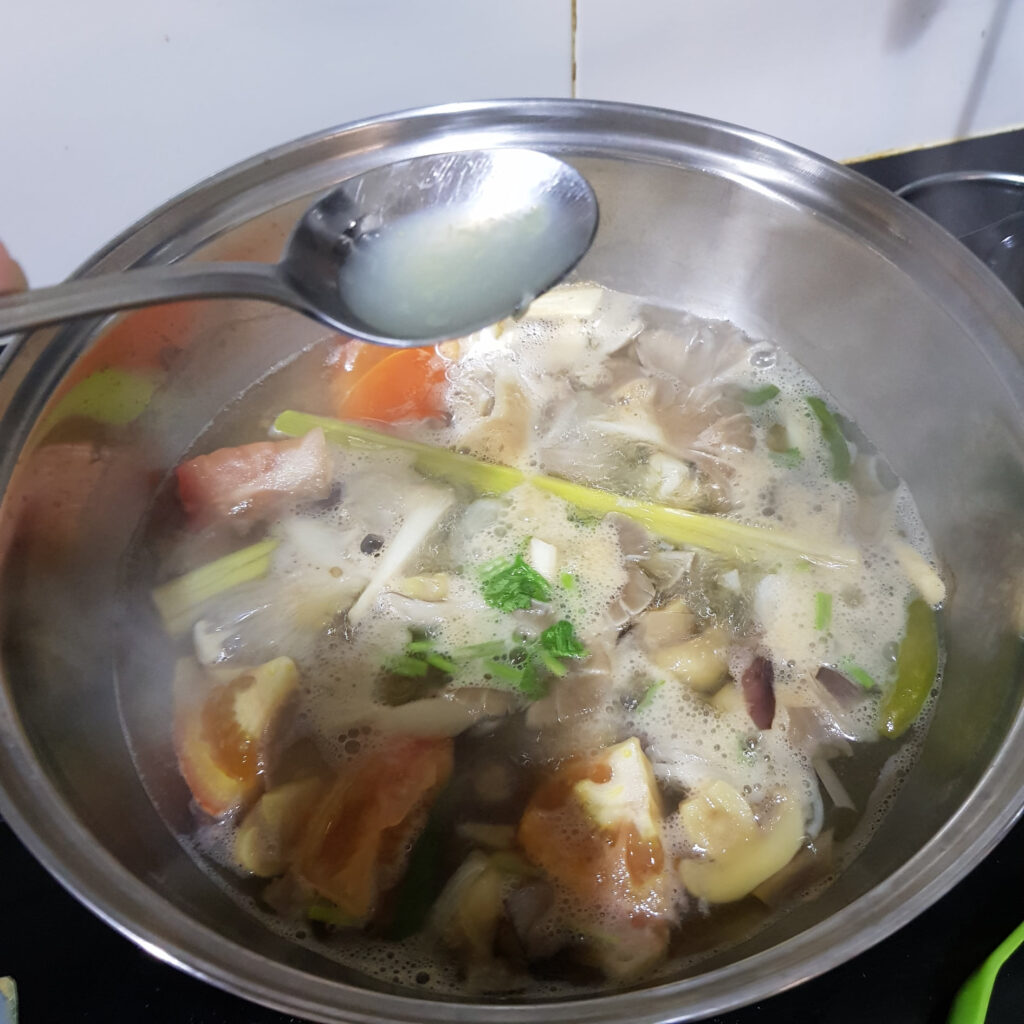 Now add in the shrimp. The shrimp will cook very fast, within 1 minute or so, depending on their size.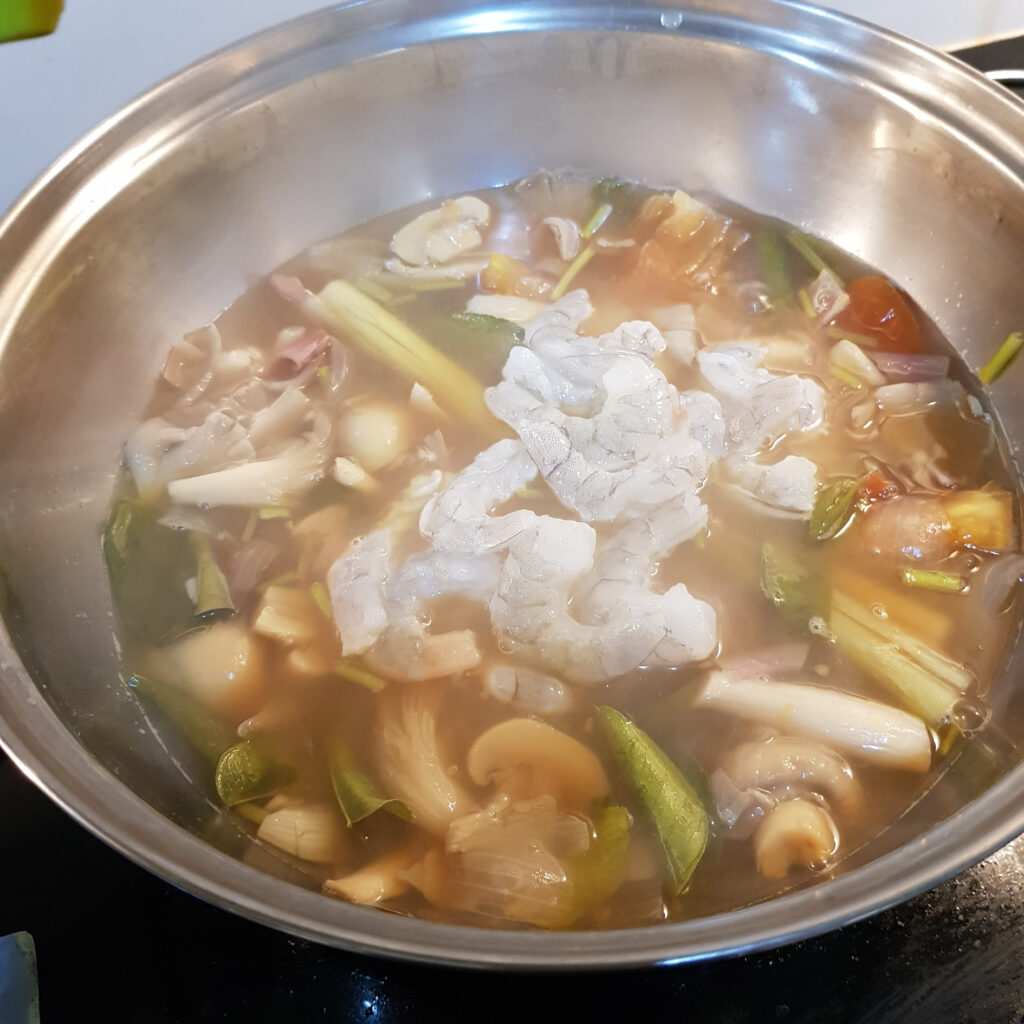 Add some chopped coriander (stalks are fine too) and some cut red chillies for garnishing.
We're done. Turn off the heat, and serve a portion into a soup bowl.
It can be easier if you remove the lemongrass stalks and the lime leaves from the pot first.
TIP: it might be better to add the garnishing to individual bowls when serving rather than the pot. This way they won't get soggy so soon.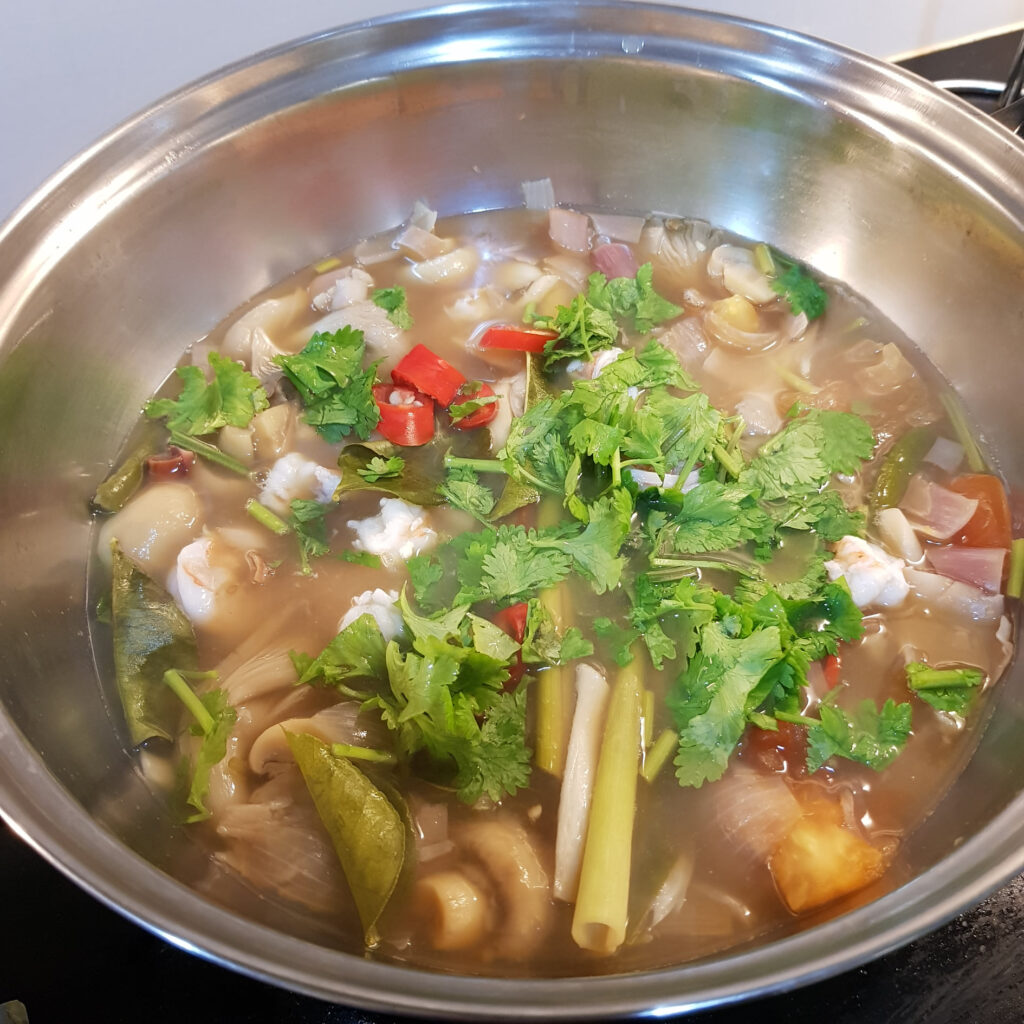 Serve with steamed white rice.
I had it with Pad Kra Pow and Kai Dao.