My return business trips from Jakarta have been getting a bit more eventful …
My return business trips from Jakarta have been getting a bit more eventful recently. A month back, my Air Asia noon flight got cancelled (Tip: avoid flying on public holidays, as low-cost carriers are more prone to cancelling flights when there are too few passengers). I was bumped to an evening flight, which meant spending almost the whole of Eid al-Adha at the airport.
Yesterday, I flew back to Kuala Lumpur on KLM flight KL810 (PH-BVD). It was an uneventful departure. Just as they were finishing the meal service however, the captain announced that due to a serious medical emergency on board, we were diverting to Singapore's Changi airport. The cabin crew rushed to collect back all the meal trays and prepare the aircraft for landing while the aircraft started its descent. It must have been a last minute decision to divert as I felt the aircraft having to slowing down a lot as it descended. We got to the airport quickly, no circling about waiting our turn to land. In next to no time we were at the aerobridge.
The local paramedic team came on board and attended to the patient, who was in the rearmost cabin. The cabin crew did an excellent job of keeping the kay-poh (busybody) passengers in their seats and the aisles clear for the medical team. It took them about 20 minutes to stabilize the patient and figure out the best way to bring her off the plane. Since the aerobridge only services the front two doors, the patient needed to be brought to the front of the aircraft. Eventually, a narrow wheelchair was brought in (just wide enough to fit in the aisle), and the patient was brought along the aisle and out the front of the aircraft.
The aircraft then needed to be refueled, and also the patient's and accompanying passengers' bags had to be offloaded. We were on the ground for about an hour and a half. Finally the captain announced that we were departing for KL, and also reported that the patient was stable as she was ambulanced to the hospital.
The flight from Singapore to KL took about half an hour and we arrived close to midnight. Fortunately, I'd decided earlier in the day to take a taxi home from the airport and so nobody was kept waiting. I finally got home at around 2:00AM.
It was in interesting experience, and I must say the KLM cabin crew handled the situation brilliantly.
Hope the patient is doing ok too.
---
LINK: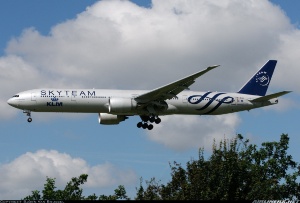 Photo Search Results | Airliners.net
This post was originally published publicly on Google+ at 2012-11-29 20:53:02+0800