Changing my ISP : Telekom Malaysia's UniFi to†' TIME Home Fibre Internet, and Do You Really Need 1Gbps?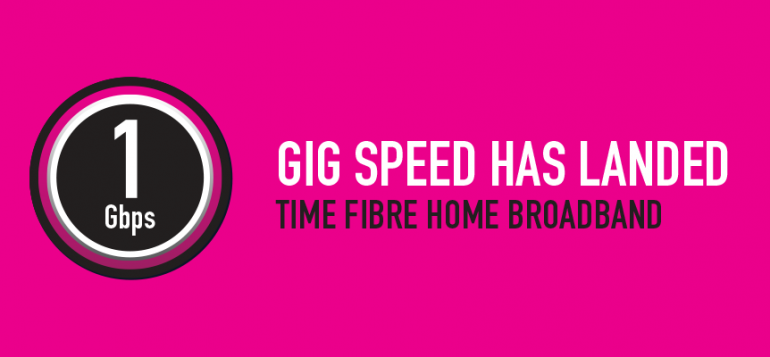 Since I live in a 20-year old apartment, Telekom Malaysia's UniFi Fiber-To-The-Home is delivered only to the riser room in the basement of my building … from there the internet service is carried into my unit using the existing regular copper cables  (using VDSL technology). The copper cabling is the bottleneck here and limits the speed offered by Telekom Malaysia to 30Mbps.
When I first moved in, I started with 10Mbps UniFi, and then upgraded to the UniFi Advance 30Mbps + Aneka (Q2 2016 Campaign) package, for which I'm paying a total of MYR199 (MYR169 for the internet and RM30 for the then "required" TV package that I never use). Despite being among the furthest units from the wiring riser, my apartment has been blessed with decent copper wiring, so my UniFi experience has been mostly trouble free and stable. The two or three long outages I've had were due to the a faulty power supply on the "modem", and after having to wait some time for Telekom Malaysia's support team to replace the power supply (it's their equipment so they're responsible under warranty), I changed it to an industrial-grade power supply and have had a pretty much trouble free existence. There have only been a few other outages, usually between 1-3AM at night, but these tend to last 15-20 minutes at most and is probably only noticed by people like me who are still up at that hour.
In 2018, due to pressure from the government to improve the speed and prices of broadband internet in Malaysia, Telekom Malaysia began a series of "Turbo" upgrades, during which line speeds were upgraded and cheaper packages were introduced. My parents house, previously at 50Mbps, was upgraded to 500mbps, for the same price (MYR169). My parents don't need that kind of speed, and decided to "downgrade" their service to 100Mbps at MYR129.
As a result of all these upgrades and better packages being offered to new subscribers, I felt I was paying a lot more money for a lot less service than everybody else. At the same time, I couldn't change to any of these other faster packages, as my copper lines wouldn't support them — only places with fiber all the way to the home can use these higher speeds. So while everything still worked with my fiber-to-the-building-but-copper-to-the-home internet service, it did feel like I was getting a raw deal.
Then in 2018
TIME
started offering Fiber-To-The-Home service in my apartment complex. Rather than depend on the existing copper wires to our units, TIME's offer was to pull new Fiber Optic cables all the way to our units, which meant no more speed limits from the existing copper cables. Time also had better and sensible pricing: RM99 for 100Mbps, RM139 for 500Mbps, and RM199 for a riduculous 1Gbps. Finally I could get ahead!
I waited a while for others in my apartment complex to switch to TIME first and sort out the teething problems …
I live in a duplex unit, and it is difficult for a single WiFi access point to provide coverage to both floors. Even within a single floor, it needs to be positioned fairly centrally, as the walls reduce the coverage and speed significantly.  This has a lot of challenges as there usually isn't a suitable electrical outlet where the access point needs to be.  To do it right means having a lot of ugly wiring tacked on to the walls.
I had some renovations made to my unit before I moved in, and had my contractor lay out  ethernet network cables, concealed within my walls, between my downstairs living room (where I had also relocated my telephone line, and is therefore where my UniFi internet service terminates), study room and upstairs living room. So although my UniFi router was placed in my downstairs living room, I was able to add additional access points at my study room and upstairs living room, which gave me decent WiFi coverage.
With TIME's internet service, they pull a new fiber optic cable from the building riser, through the ceiling of the common area, and up to my front entrance. It then runs along the ceiling of my porch, up to the wall off my upper floor. They will then make a hole in the wall, either on my upper floor or lower floor, and run the fiber cable to wherever I choose.
I hate the sight of ugly cabling, but since my study room is just very close to where the cable would enter my upper floor, I decided to terminate the fiber cable in my study room. I just needed to connect the TIME router via Ethernet cable to the LAN port in my study room, and I would be able to access the internet via my all existing WiFi APs.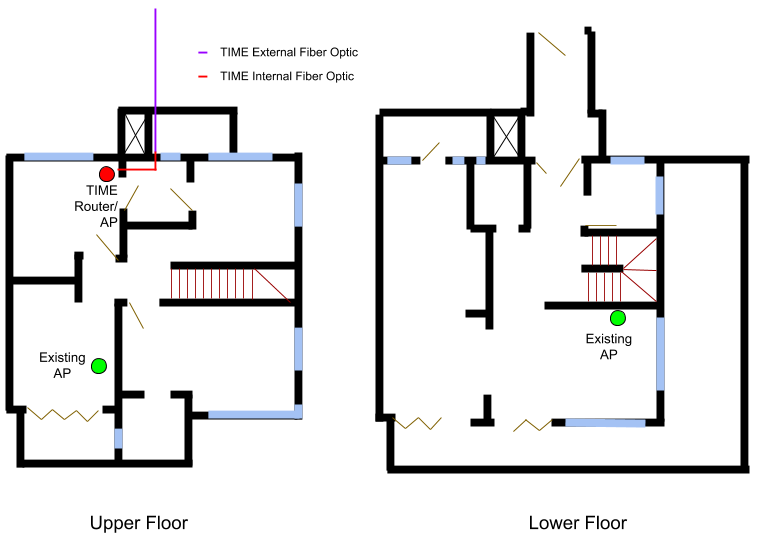 The management office has agreed with TIME to a flat rate of RM70 for the external cabling and conduits. Internal wiring is free for the first 20m from my front gate (not the wall), and laying out plastic conduit or any other works internally is charged extra. In my case, this works out nicely — there should not be any extra charges.
The only problem is that the wiring enters my upper floor at what is my upstairs bathroom, where there are decorative wall tiles and a plaster ceiling. I would need two holes drilled
above
the plaster ceiling (so that the cables are concealed) : one on the external wall and one on the wall to my study room.
To add to the challenge, the wall to my study room where a hole needs to be drilled also has:
electrical wiring to a water heater

water supply to the water heater and bathroom tap

a split air-conditioner unit

electrical wiring to the air-conditioner unit

drainage to the airconditioner unit

gas piping to the air conditioner's outside compressor unit 
Plenty of things could go wrong when drilling there!
I decided I didn't want leave this to the TIME installers, so I called
Athelea
, my regular contractor,. She dropped by for a site survey … and said no problem, they can do it. They will lay a plastic conduit above the plaster ceiling so the TIME installers don't have to mess around with anything above bathroom ceiling. She even said she could do it without needing to cut the plaster ceiling! 
It took some time before she was able to schedule my job. By that time I had a few other minor tasks around the house for her workers as well, but the piping for TIME fiber wiring was the most worrying — due to the things that could go wrong.
There's an access hole above my shower to access the space above the plaster ceiling. It's too far away from the wall to drill from, but they used this to take measurements and estimate a safe spot to drill  from outside, into the bathroom. (That big white pipe visible through the access hole … is the drainage system for kitchen and downstairs bathroom of the unit above mine Ÿ˜Ÿ).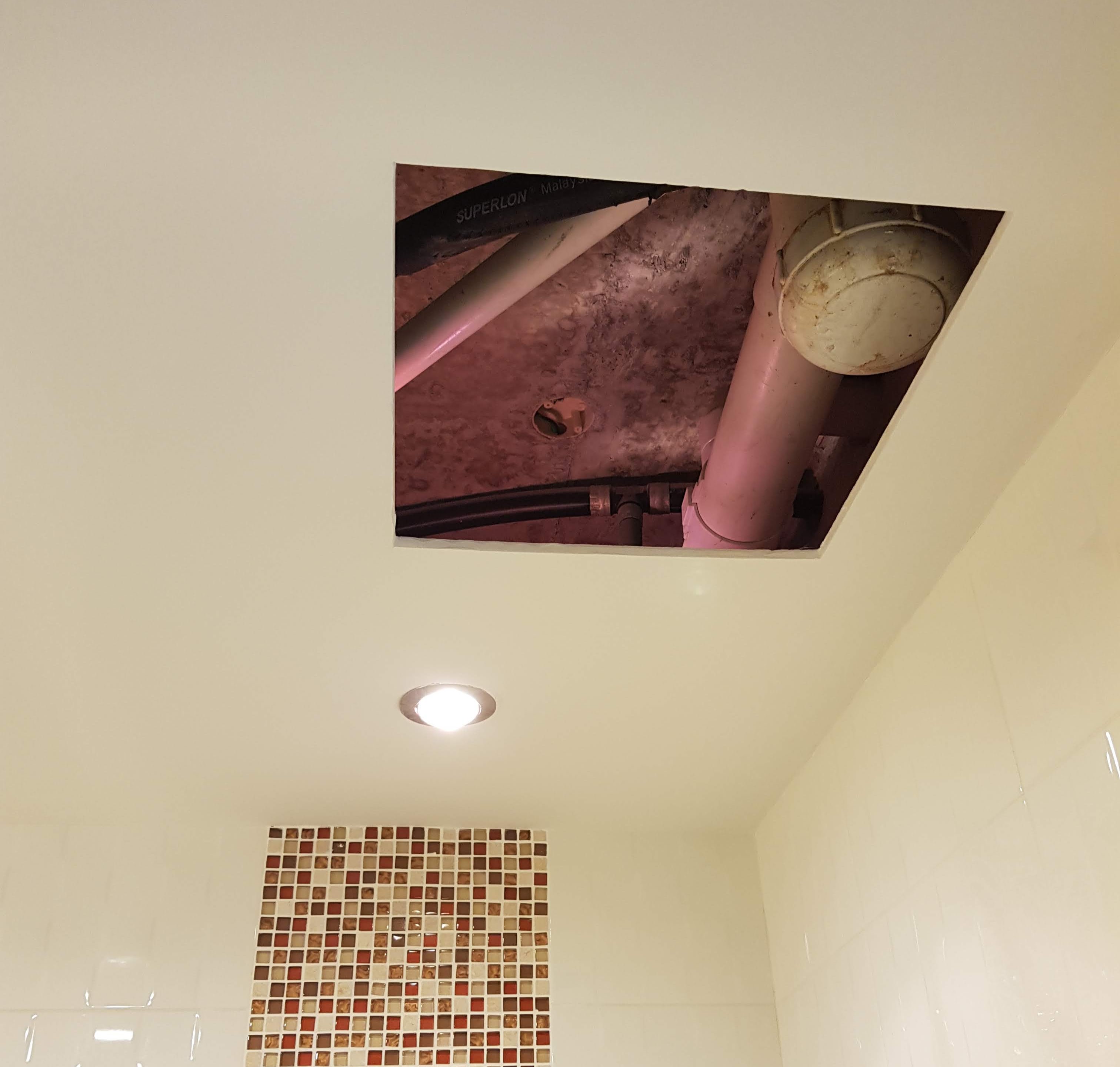 Here they are drilling the hole from the outside: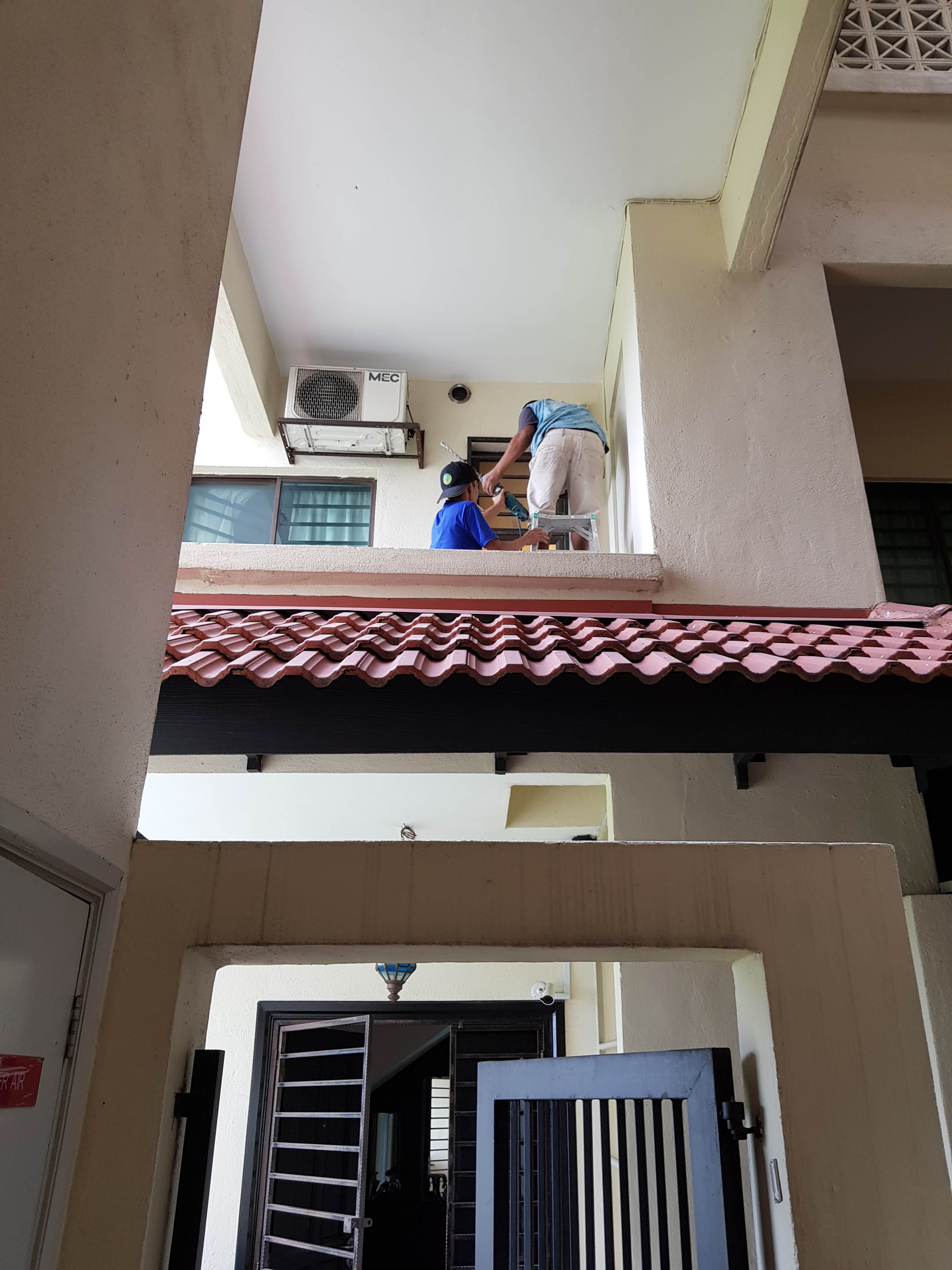 I had to shutdown both my PCs and disconnect all the cables so I could move it out of the way — it's a good opportunity to sort out the tangled mess. Everything got covered with a canvas.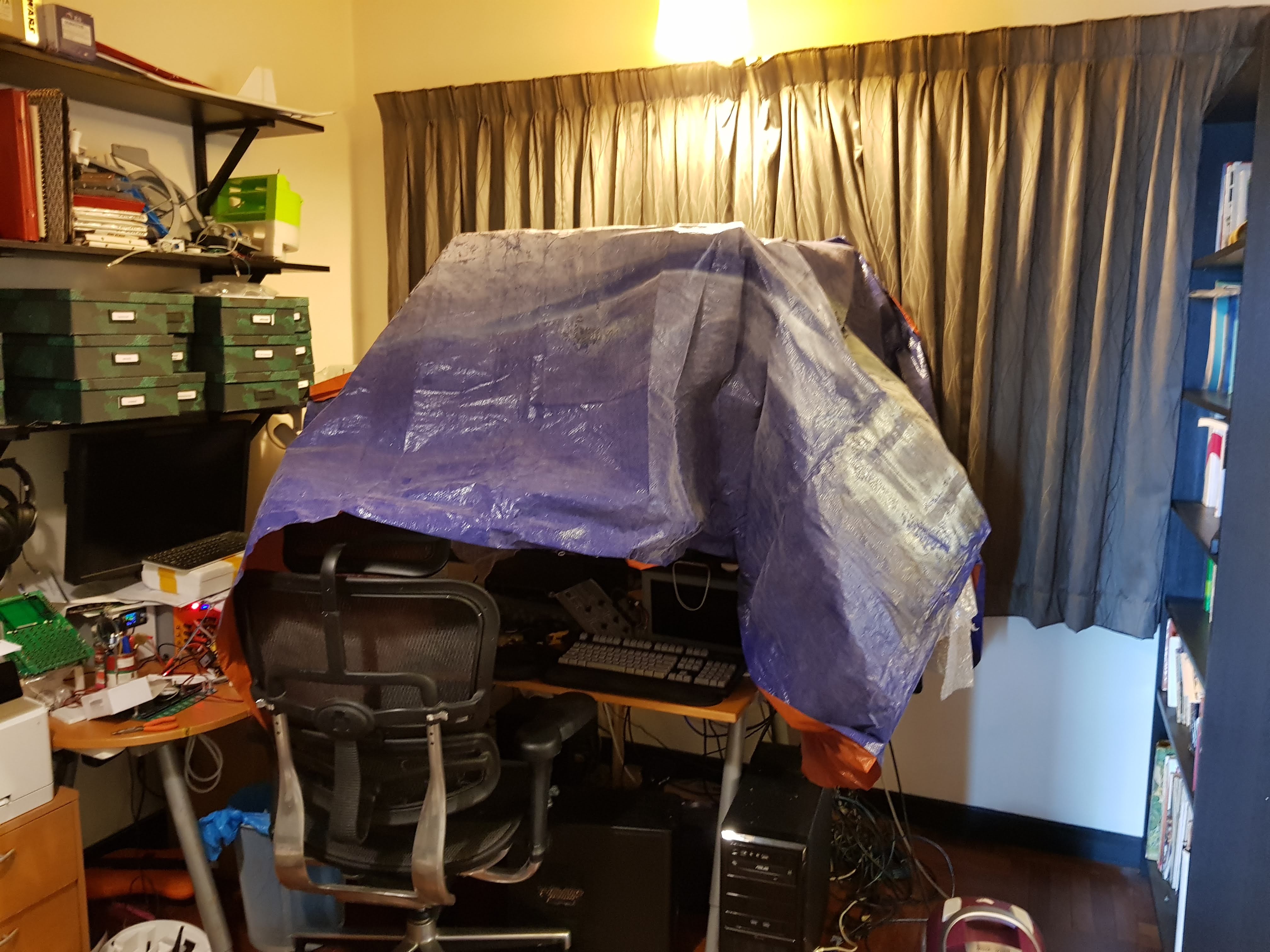 Here's the hole in the study room … neat!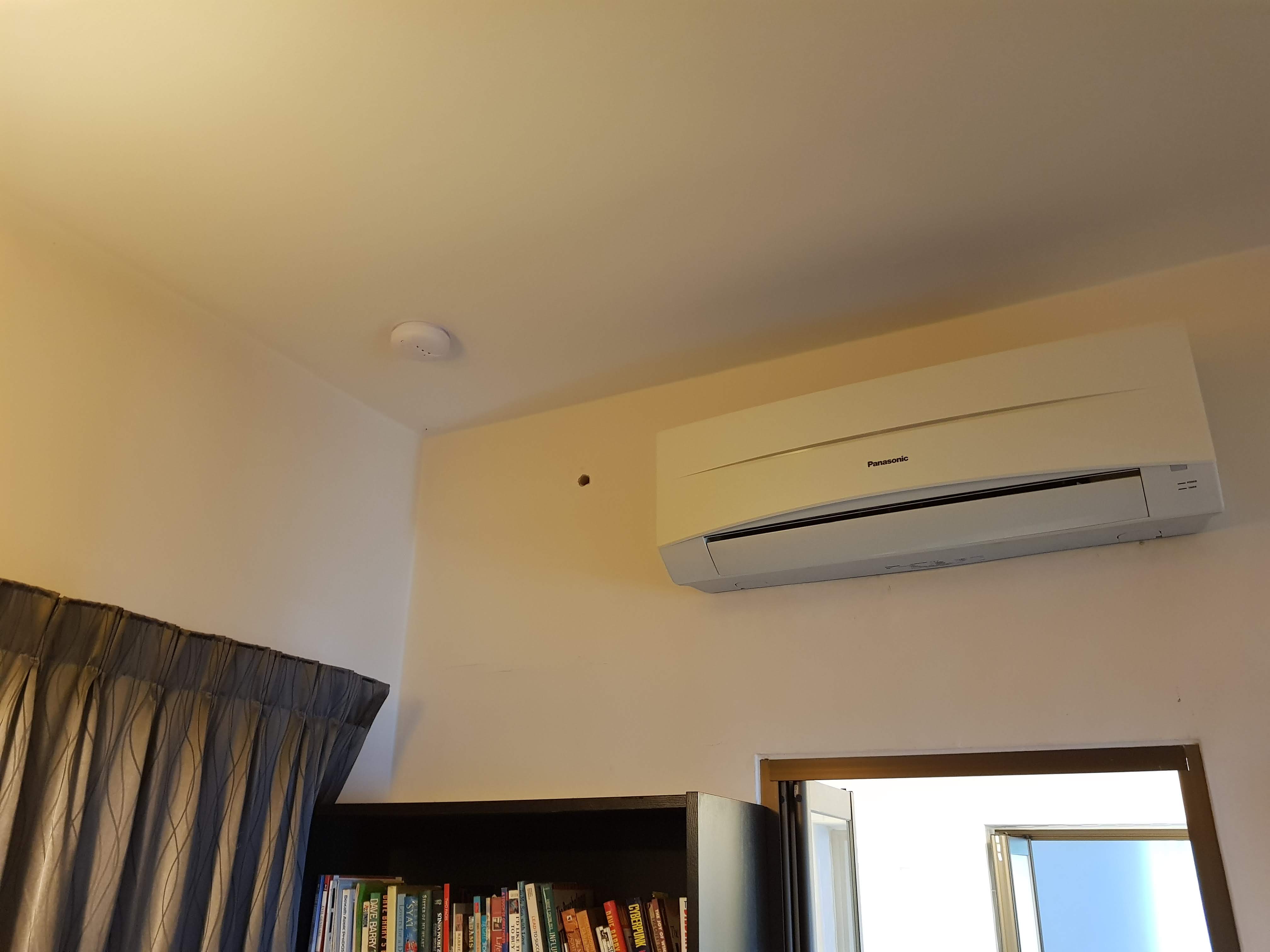 They then brought up a long piece of PVC pipe. I thought they were going to cut it and use elbow joints, but instead (after more careful measurements) they used a spring thingy and bent that single pipe into the shape needed. This way there are no joins on which the cable can get snagged. Then the entire pipe (one piece) was carefully inserted into the access hole, and pushed through both the drilled holes in the wall.
Here's the pipe going to through the concrete wall to outside my unit: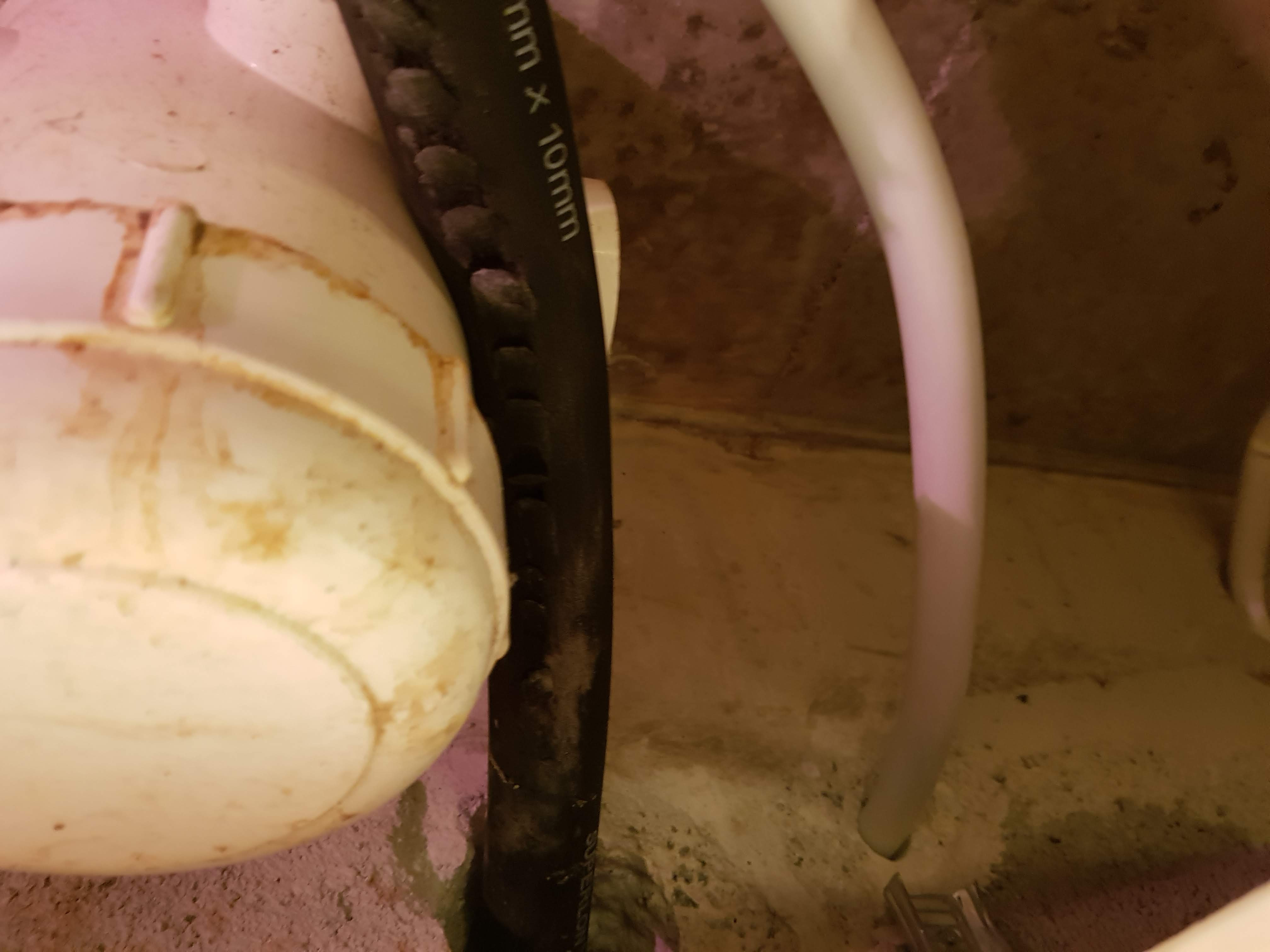 And here's the pipe going through the brick wall to my study room: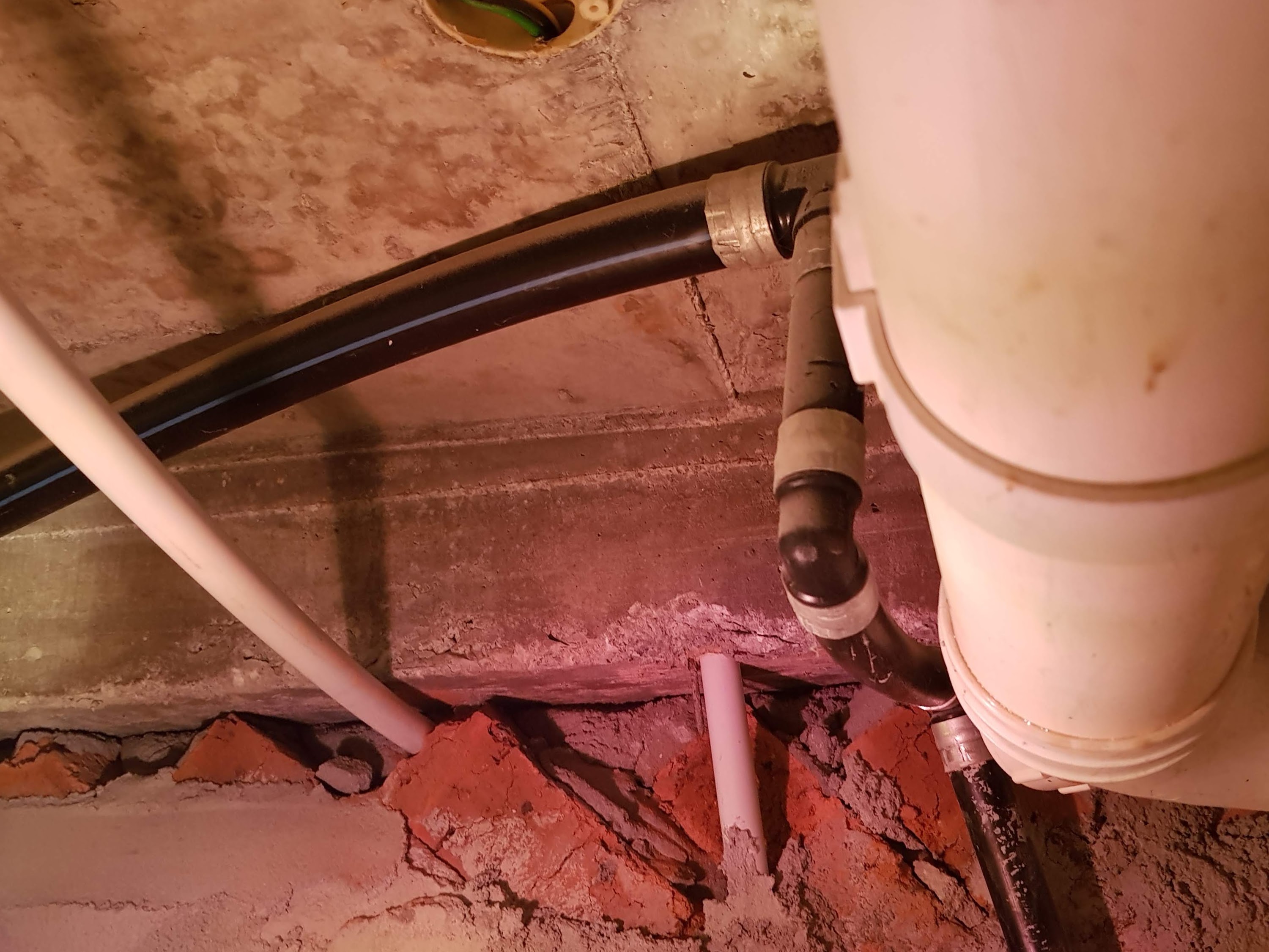 And the end result … everything is perfectly hidden from view!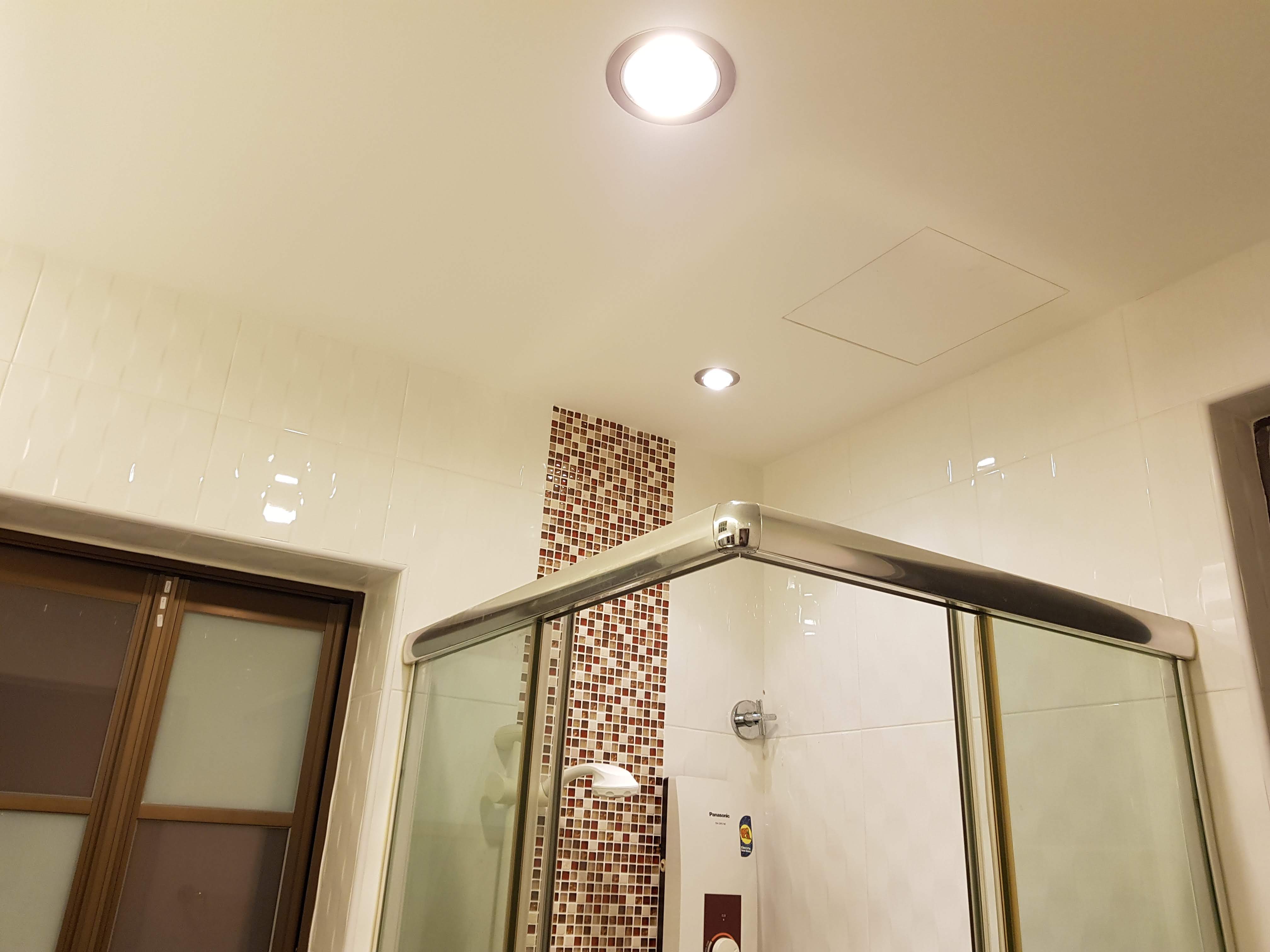 Lastly, they put down some flat plastic conduit below the hole in my study room, so the fiber outpic cable could be routed neatly. The total from Athelea's bill for this part was MYR50

😀
— worth paying to have someone familiar with the place work on it (she had also done my unit's renovation earlier) !
Applying for my TIME Internet Service
I am finally ready to apply for my TIME Internet service!
I could just apply for it online via TIME's
website
.
Or I could apply via one of their resellers / agents.
Usually I would be happier to just deal with the website, but in this case I had a special requirement.
Being an avid aviation fan, I've continued my dad's
tradition
of having 747 on my car number plates and also phone numbers.
With UniFi they let you chose from 50 available numbers when registering on-line, but I discovered the list of 50 numbers changes if you hit the browser refresh button, so I kept refreshing the display until I got the number I wanted.
With TIME there didn't seem to be an option for choosing a number. So I contacted one of the agents  who had made herself known on my apartment's facebook group (
Kathy Yang
) and she said if I applied through her, not only would she help sort out the registration for me, but she could try and secure a number I liked (I was given four choices) first prior to registration (no guarantees). So I sent her my details for the registration. It took a few extra days but she managed to get a number one of the numbers I had asked for.
I then received an email from TIME with my scheduled appointment date for installation.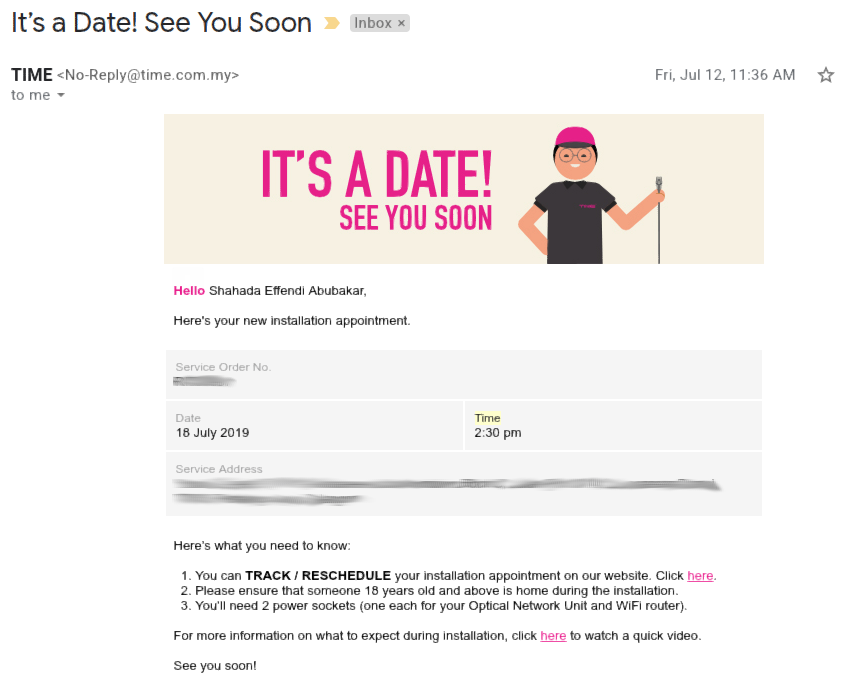 However, a few days before my scheduled appointment, I got a call from the TIME installer, asking if I was at home the next day. They were installing a neighbor's service, and if I was available, they could do mine at the same time. I wasn't able to confirm at the time, so stayed with the original schedule. They said no problem, and that they would be pulling the outside cabling to my front door that day.
Because the ceiling in our common area is so high (the whole building has duplex units), the management office insisted that they use scaffolding to get up to the ceiling, rather than a tall ladder.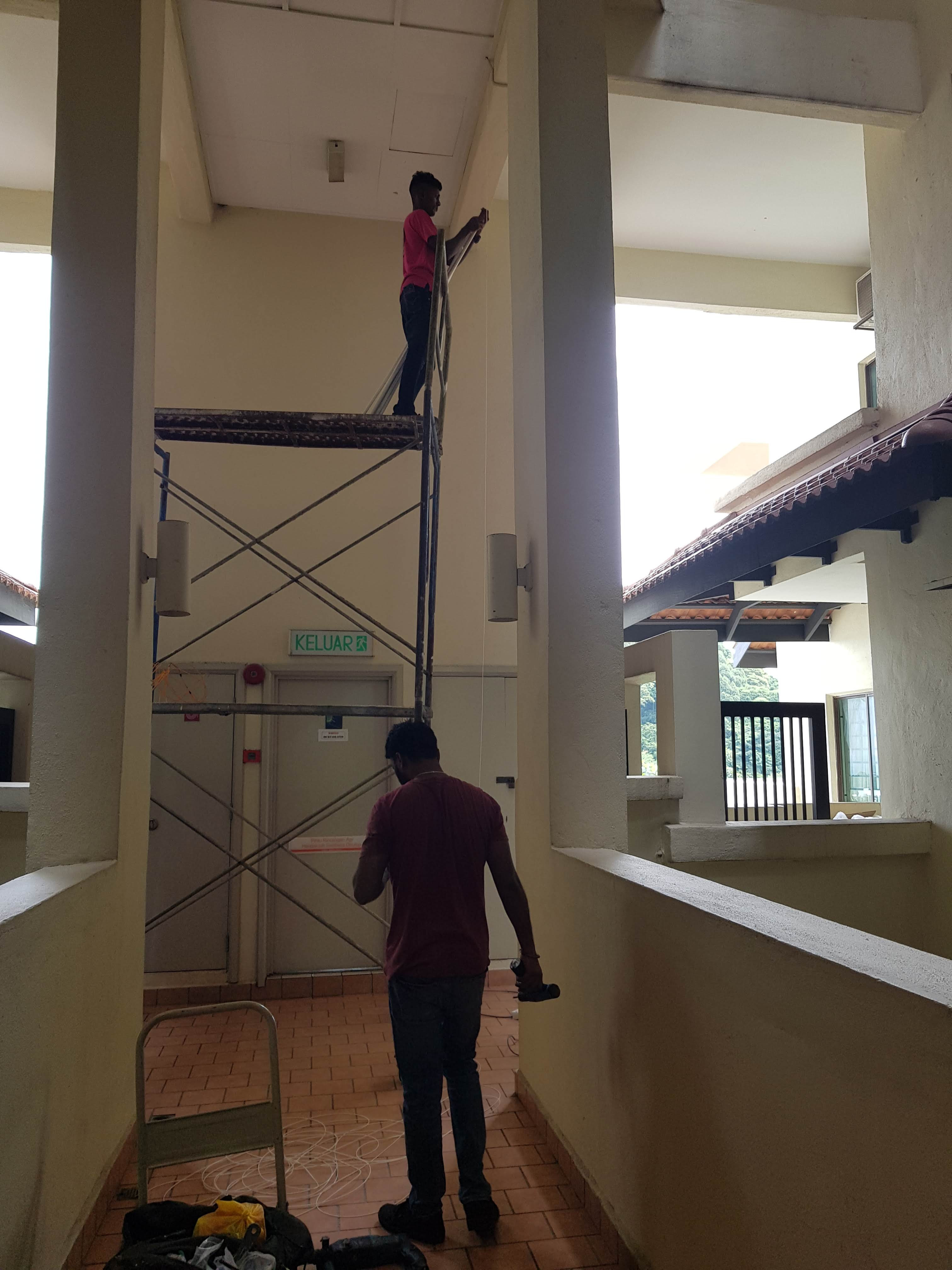 I get acrophobia just changing a lightbulb, so I really salute these guys. From up there, I'm sure you can see all the way to the ground floor. And if you were to fall down the wrong way, it would be a long drop!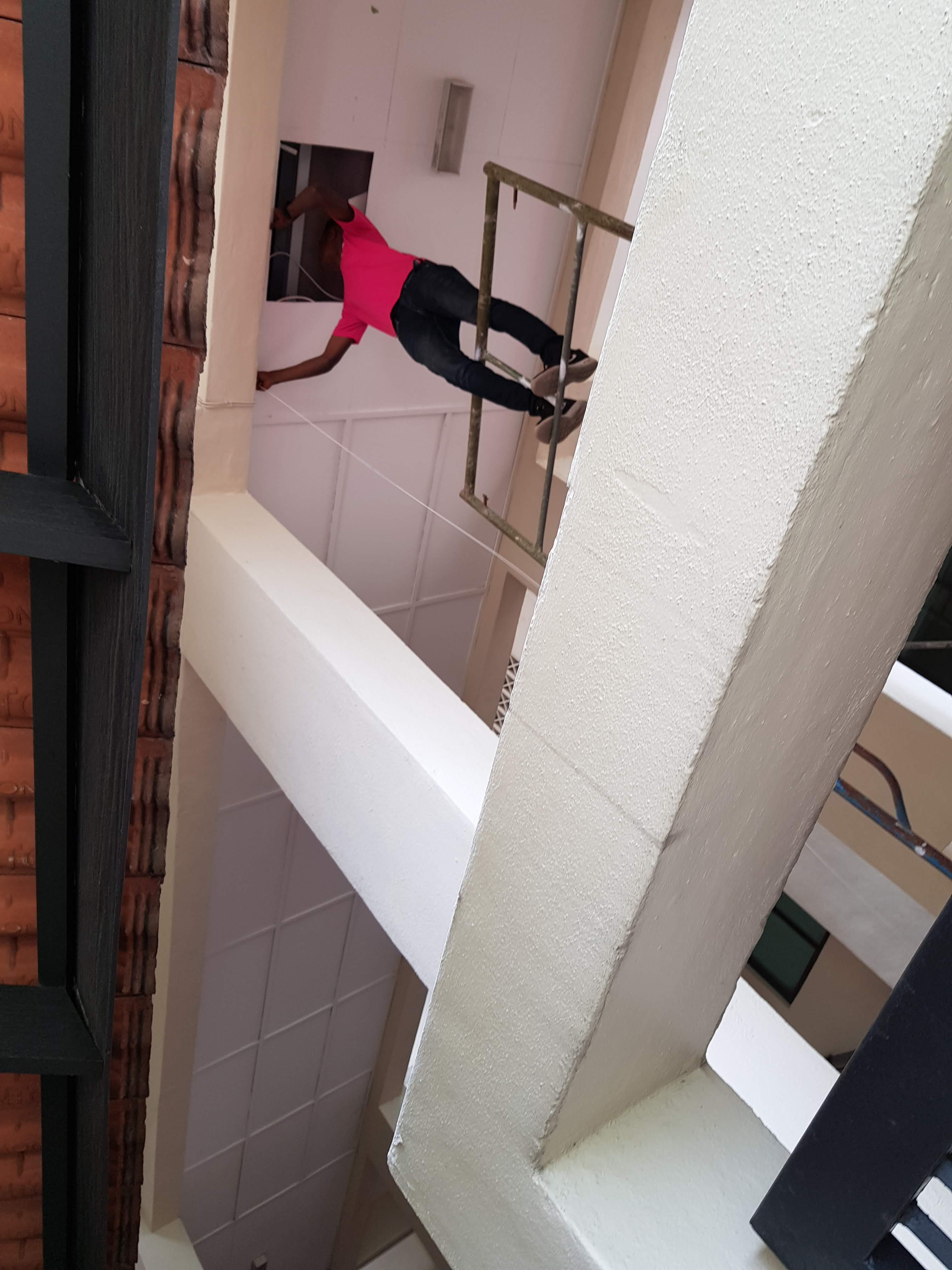 Since I was at home, they asked if they could pull the cable to my outside wall that day.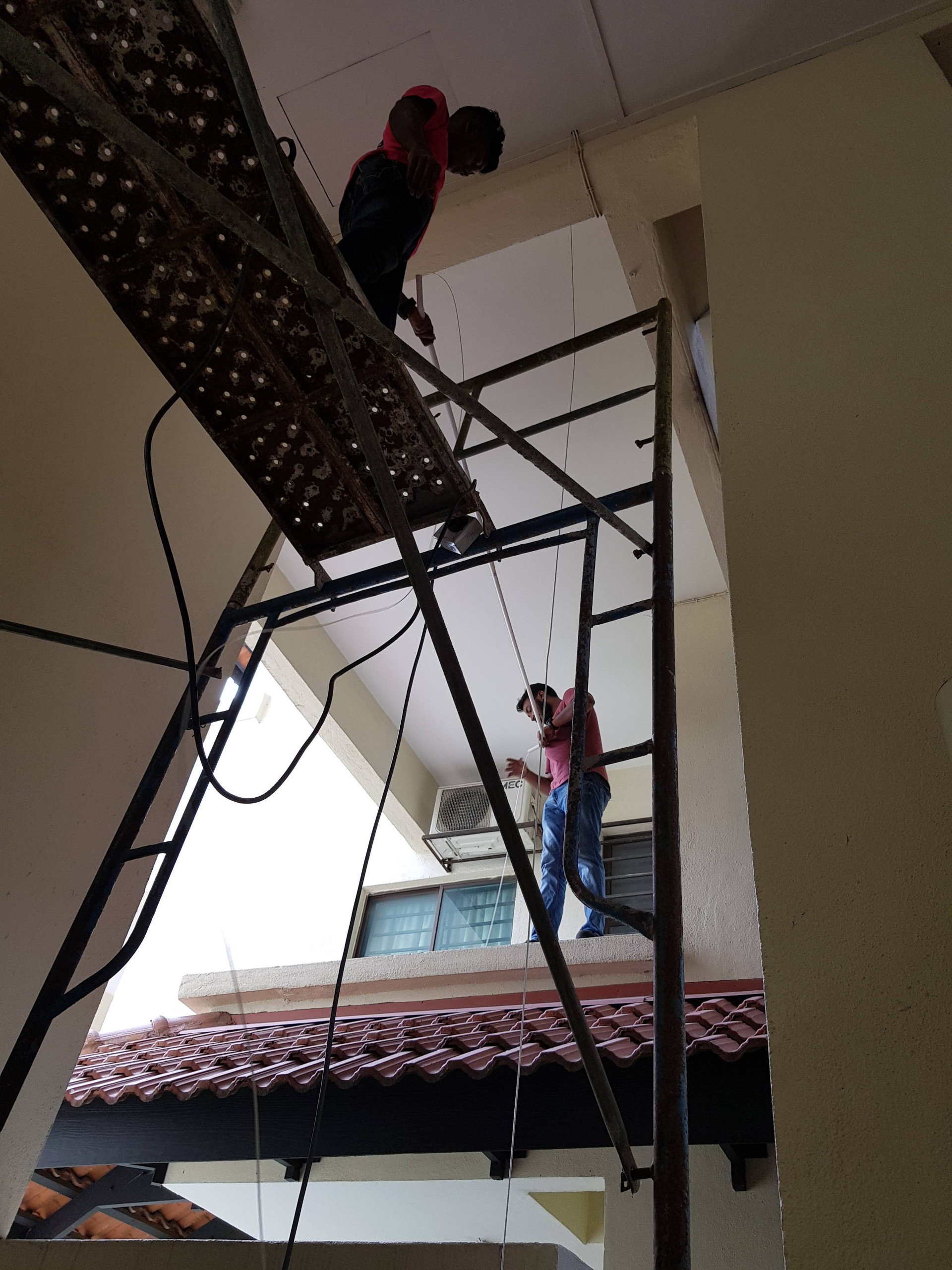 The fiber optic cable was run through PVC conduits outside to my wall.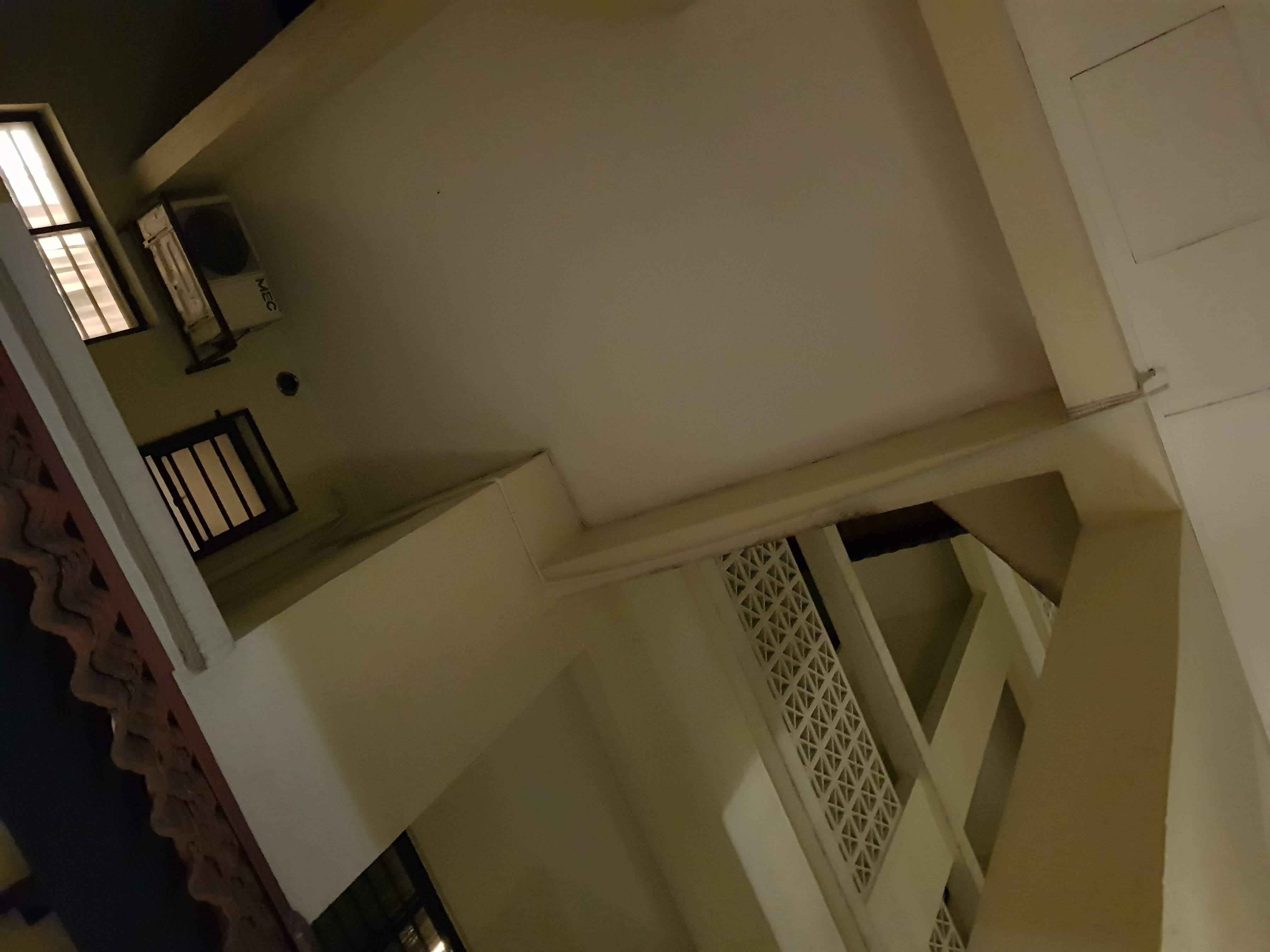 I discussed my internal wiring with them, and since there wasn't much to be done, we decided to do it the next morning. They then left to do the neighbour's unit.
The installers showed up at 11:00 the next morning. They brought a L-joint so they could join their PVC pipe with the one my contractor had laid. Within a few minutes they had pushed the fiber optic cable into my study room.
I asked them to place the "modem" and also the router on the top of my bookshelf, and loop the extra fiber optic cable and place it above the bookshelf, in case I ever needed to relocate the router in the future.
It took some time to get my internet service up as there was some issue that they needed to go downstairs to sort out. But eventually: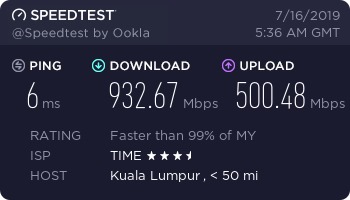 I'm now living in the Fast Lane!
However, the telephone service did not work when the installer set up the line. The installer reported the matter to Time customer service, and said to call him if it's not resolved by the end of the day (The internet service worked, which was the important thing).
There was another niggling issue in that the installer asked me for RM70 + RM50. My understanding is that the RM70 covers their standard installation, which covers pulling the fiber along the corridor to my wall + external conduits + 20m of fiber optic cable from my front gate. Since they didn't have to do any special work indoors, or lay any conduit (they didn't even have to drill the hole), mine should be considered a standard install. However, the installer seems to have a different understanding … the RM50 is for the conduits they lay outside my unit. This is not what I recall seeing from notice posted by the management office — a copy of which I don't have. Anyway … I have 1 Gigabit of internet to play with so I let bygones be bygones and paid RM120 (but only got a receipt for RM70!).
I spent the rest of the day configuring the TIME router to suit my network requirements, including changing the LAN subnet address and router IP, and renaming the WIFI AP and password. I also reconfigured the UniFi router to a different LAN IP and disabled it's DHCP server. So I could use either TIME internet or UniFi Internet by setting the default route on my devices.
I realized one issue with placing the router on top of my cupboard is I can't see the status lights easily (When I was a kid we were told in the 21st Century there would be lots of flashing lights!) So I modified some IKEA shelves and made a mini "wall" so I could mount the router and "modem" on their side. Here's the end result: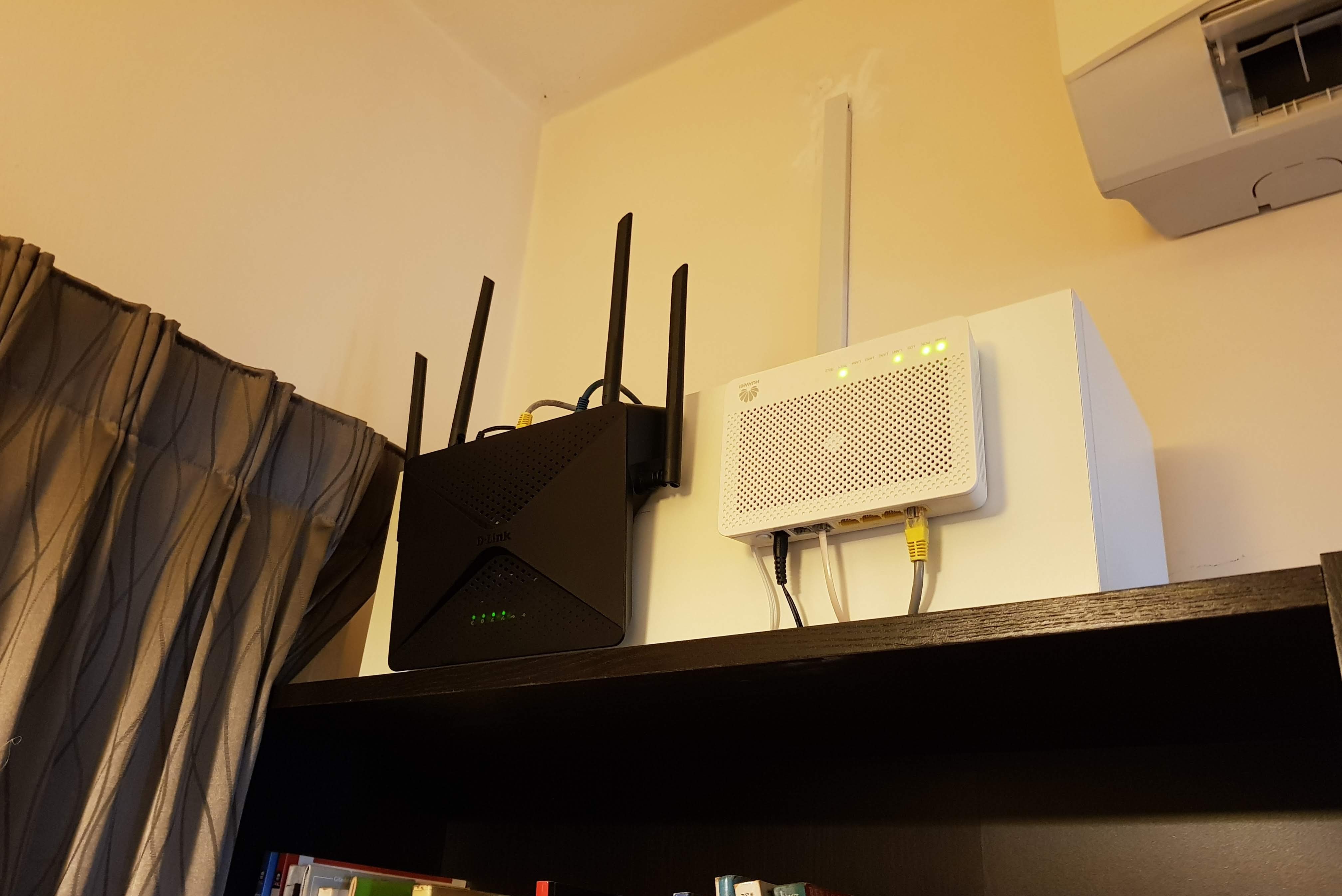 By the end of the day the TEL1 light on the "modem" still  remain unlit, and there was no dial tone from the phone. I decided to test Time's Self-Care portal. I logged in and reported the issue that my phone line still didn't work after installation. This was my first time using Time's self-care system. There was something weird going in in that the problem report I keyed did not get saved into the trouble ticket, only the attachments. I added a comment and retyped in the problem.
The next day I got a reply via email from a Time "Support Ninja" saying they'd relayed the issue to the appropriate department. This was followed by a reply email saying there was a problem with the number I was initially assigned, which had been assigned to someone else, and they've changed it to another number. I also received a call (I was away from home) asking me to test the telephone. When I got home the phone worked, but I wasn't happy with the new number (It's actually a "nice" number, but has no 747 in it, so …).
I replied to the email mentioning that I'd requested for a specific last few digits, and if there was a way I could still get that. I got a response the next day saying I could still change my number, and there is a URL to submit that request. The number they'd given to me originally had already been assigned to another customer and so they weren't able to provision that to me. There would be a RM10 charge for changes to my service number …
I went to the URL and filled in the request (not sure why it is not part of the Self-Care portal, which meant I had to key in my details again). The next day a TIME customer support person called me, and said none of my choices were available, but she did run through what prefixes were available and after some back and forth we decided on a suitable "747" number for me. I am a Happy Customer once again!
For what is worth, my mum is the only person who calls my house number, and now that it's changed, she finds it easier to just call me on Facebook Messenger! So much for all that!
I did discover that TIME has a VOIP app for android which allows any incoming call to my TIME number to ring both in my house and my mobile. I will give this a test later — it does sound useful as a single number can reach me regardless of whether I am at home or outside. This is even more useful now that the MAXIS cell service quality in my apartment has deteriorated in the last year or so.
The good news is that you *can* get 1Gbps service out of the TIME internet line.
Your WiFi speed will vary based on the device you have and how clear the path is between your device and the WiFi Access Point. The most "modern" WiFi gadget I have is a Samsung S8+. So I temporarily disconnected my LAN from the router (so that there won't be any other traffic) and went around the house doing
speedtest.com
 tests while connected to the TIME WiFI. Here are my results: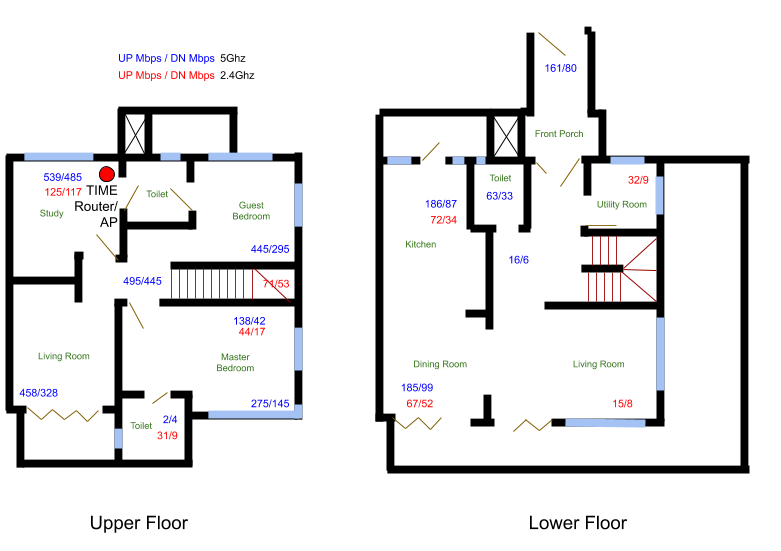 I did the most of the tests on the WiFi 5Ghz network (blue), which gives better speed than the WiFi 2.4Ghz network, except for places where the 5Ghz signal was too weak (down to 1 bar on my phone's WiFi symbol) or not available at all. For those locations, I switched to 2.4Ghz (red).
Looking at the 5Ghz signal upstairs, it was not enough to reach my master bedroom toilet — one of the most important places to surf the internet from! I believe the number of concrete walls it had to cross significantly reduced it's capability. So if you are only going to have one access point for the upper floor, I would suggest putting it as close to the center as possible –perhaps bring the fiber in above the upstairs shared bathroom ceiling and out to the upstairs staircase landing area, but you will need to figure out how to get electrical power there.
The 5Ghz signal performs even worse when trying to reach the lower floor. Even directly below my study room, where my kitchen is, there is a significant loss in speed already. And from the other 3 corners of the unit, there is hardly any 5Ghz signal. So if you want to enjoy high speeds, I strongly suggest sticking to 5Ghz and having a second access point for the lower floor. It would be best to connect the second Access Point to the first Access Point via a LAN cable, but this wiring will be ugly. Alternatively, you could try using a WiFi extender, but those are even harder to position optimally.
The 2.4Ghz signal has sufficient reach to cover the entire apartment, but suffers in it's lack of ability to reach speeds above 100Mbps. Right next to the TIME WiFi access point, I was only able to get 125/117 on 2.4Ghz via my S8+, which means that is probably the fastest it will ever reach.
And this is using one of the "better" gadgets I have. My 2014 Samsung Tab S tablet could only achieve 166/164 (5Ghz) and 127/127 (2.4Ghz) right next to the router. And my 2011 ThinkPad X220 maxed out at 58/26 (it only has 2.4Ghz).
So if you have older gadgets and depend on WiFi a lot, it's probably not worth subscribing to anything more than 100Mbps. And even if you have newer gadgets with decent WiFi, if this is predominantly what you use, then it's not worth subscribing to anything more than 500Mbps.
This doesn't bug me too much, as most of my work is done on my PC which has a wired connection to the router, and all my important devices (TVs, PS4) are connected via LAN cable, and I also have other WiFi Access Points around the apartment with a wired LAN connection to my router to give me decent coverage. But it does go to show that placement of your WiFi router is
critical
 to getting a good overall internet speed. I'm sure the majority of people complaining about how poor their UniFi or even TIME internet service are just suffering from Bad WiFi.
Do you really need 1-Gigabit Internet?
After some time using the 1 Gbps service, I think I can declare the following:
Normal home/SOHO users don't need an internet speed of more than 100Mbps, and even self-declared power users will struggle to use more than 300-500mbps.

Anything more (i.e. 1Gbps)  is just for bragging rights and only that, as even with a lot of effort, it is very difficult to ever make full use of more bandwidth for whatever purpose.
Consider the following factors:
You can't use WiFi. If you want sustained and reliable gigabit transfers, you need to connect to the router using Gigabit Ethernet and LAN cable. That means either a Desktop PC or a Laptop with wired connection. Forget about all your mobile gadgets.

Make sure all your network switches and repeaters and LAN adapters are Gigabit Ethernet capable. Check that your adapter is running at 1000Mbps Full Duplex. When your Internet speed is the same as your LAN speed, bottlenecks in your LAN that never was an issue before will  start having an impact.

Cable type doesn't matter so much. You can run 1 Gigabit Ethernet on CAT5E just fine.

It is quite hard to actually need something that can run at 1-Gigabit speeds:

Streaming a 4K movie? Netflix requires "just" 25Mbps. That's just 2.5% of the bandwidth available. Theoretically, you'd need to stream 40 movies simultaneously to saturate your Gigabit Ethernet.

Downloading from torrents? You will need A LOT of peers. Consider what most torrent users set their upload limit at, say 0.5Mbp or even lesss. That means you need 200 peers to max out a gigabit line. It's quite rare to find torrents with that many peers, especially on public trackers. You'd need to download a lot of stuff simultaneously.

Transferring stuff from servers? Most servers out there have trafic shapping and limits. If they were to allow unlimited bandwidth to any IP out there, they'd get DDOS'd out of existence.

Even if it's a server under your control and there are no bandwidth limits, you'd still need a gigabit worth of bandwidth on every link in the chain on the Internet between the server and your PC. And those are resources shared with other people in the world, outside your control.

Say you actually can get a source that can make 1 gigabit of data available to you per second. What are you going to do with it when it arrives? S

ave it to disk (i.e. download)?A regular hard disk has a write speed of 80-100MBps (640 – 800

Mbps

), and that's without overheads. That means you're downloading at 1 gigabit, but your hard drives can hardly keep up with the data stream.The operating system will buffer the data in memory to some extent, but with that much mismatch, it's just not sustainable.

You could use a RAID array or SSD to gain some write performance, but being able to sustain gigabit write speeds needs a lot of engineering attention.
To maximize usage of Gigabit Ethernet, you need to do lots of stuff simultaneously on many different devices. i.e. have your tv streaming a 4k video, while you torrent stuff, and also make a video call, and as many things as you can think of.  Even then, I find it hard for one person to use more than 300Mbps or even 100Mbps on their own for any length of time. And if there's only one person, eventually, you will just run out of stuff to do online.
The higher bandwidth helps when there are multiple users … if only because more people means more usage. Maybe you could hit some highs during peak hours. But I'm pretty sure the line will still be below it's maximum capacity for most of the time. A medium or large size office might benefit from it, although most legitimate office work (web browsing, accessing business applications) doesn't really use up lots of bandwidth either.
So what am I doing with 1 Gbps internet? As I said … bragging rights! I could downgrade to 500Mbps, which would reset my 2-year contract, but since I'm paying about the same as what I paid for 30Mbps UniFi … I might just stay with it … if only to brag! ðŸ˜
Originally created with EverNote at 20190718T063836Z