To Note … or Not To Note ..
Grr … +Jon Dadameah, this is all your fault for mentioning it …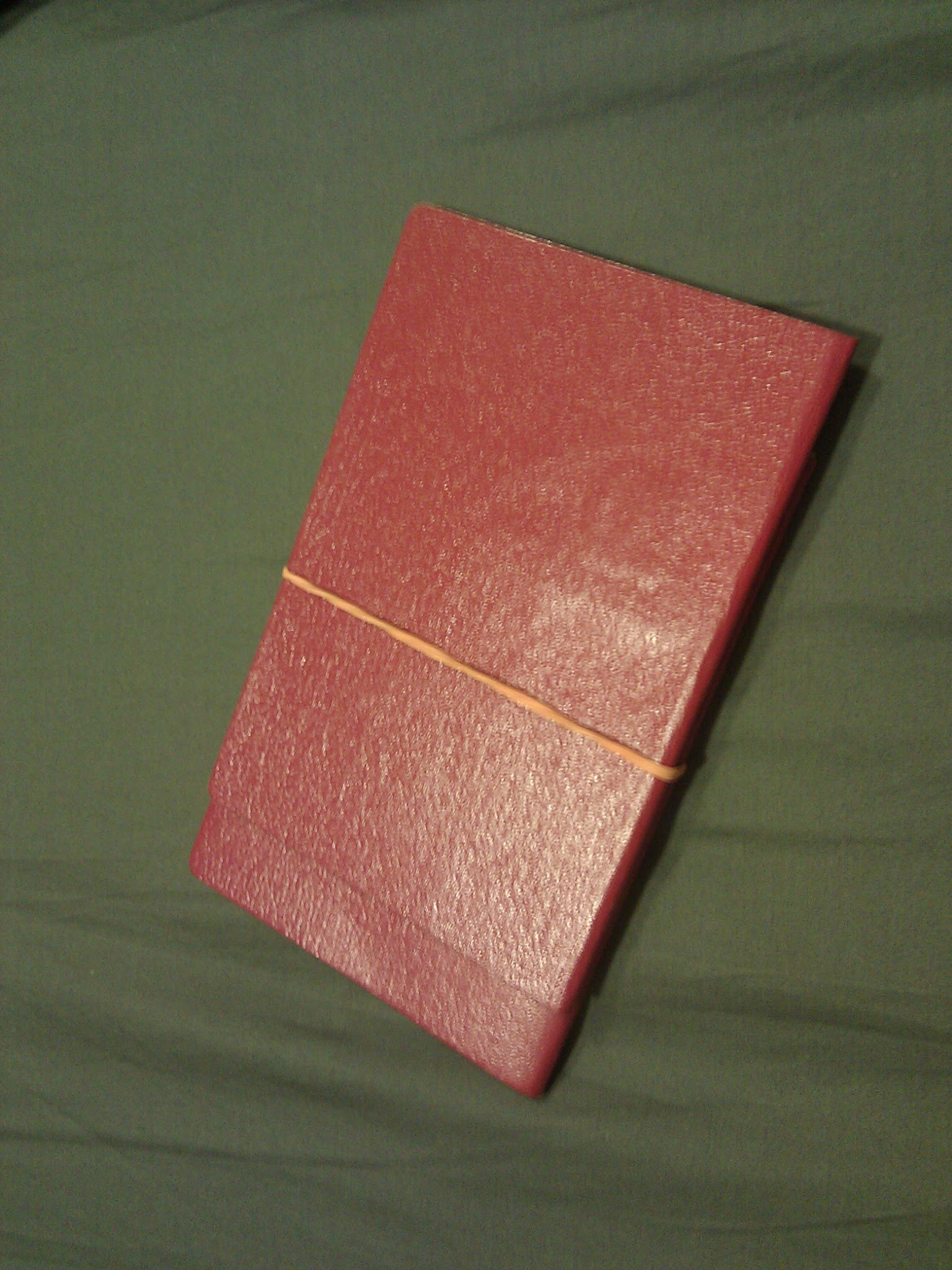 Q: What is this picture of?
A: It is a picture of two "Paspot Malaysia", attached together with a rubber band.
Q: Why am I attaching two "Paspot Malaysia" together with a rubber band?
A: because it is the approximate width, height, and thickness of a Samsung Galaxy Note.
Q: Why am I looking for an approximation of a Galaxy Note?
A: Because I'm pissed off that the Galaxy Nexus has no SD card slot, and that I have to wait forever for a 32GB set to be available, and even if I did wait, the Galaxy Note beats it in many ways. I was curious if I could live with a phone that big, and since it's late at night, an approximation was needed to answer some questions while prowling the internet for reviews.
Q: How are the two compared after reading all the sites for the last hour or so?
A: Here you go:
Storage
You can get a galaxy nexus now for RM2099 with 16GB of RAM. You can wait forever for a 32GB galaxy nexus and may end up paying from RM2500 to RM2900 for it. You may have to settle for an AP set if Samsung decides not to bring it in.
The Galaxy note for RM89 more comes with 16GB built in, and an SD card slot where you can stick in a Micro SDCard. I have a 16GB SD Card, and you can even get them up to 32GB these days. That's a lot of storage.
Pocketability
The Galaxy Note (pasport malaysia version) was comfortable in my regular trousers.Â
Holdability
The Galaxy Note (passpot malaysia version) was reasonably comfortable to hold (I think I have big hands). I have to go to a shop to hold a real one to see (this whole exercise is to justify me going to the shop in the first place — we all know the risks involved with "going to the shop just to see").
Phone
The galaxy note is huge as a phone, and can look silly being held up to your head. The galaxy nexus is slightly smaller but will also look silly next to your head. Having said that, as most of my friends and colleages will know, I hardly make or take voice calls, and even if I really needed to, I could use a bluetooth headset. In fact I use the phone feature of the phone so little that there has to be a better name for it (I like Jeff Hawkin's term "communicator").
Display
Screen estate wise, the galaxy note wins. Both use Super Amoled displays with pentile (not a plus), but the galaxy nexus is 1280×720 whereas the note is 1280×800. The note also has real buttons, whereas some part of the galaxy nexus's display is taken up by the buttons.
I use the phone mostly for browser, gmail, maps, youtube and gtalk. For the first three, the more pixels and size the better. I think the bigger display also means a more spaced out keyboard so that may work better too.
Since I'm also looking for something to use as an ebook, the note does make a lot more of sense. If I had the note, there would certainly be less longing for a galaxy tab 7.7.
Operating System
The galaxy nexus comes with stock android 4.0 ice cream sandwich (ICS), whereas the note comes with android 2.3 gingerbread + the dreaded touchwiz. However, Samsung has announced the note will have ICS in early 2012, and even better still, CyanogenMod 9 has already released an alpha version based on ICS.
Camera
The galaxy nexus is 5MP like my old nexus one, whereas the galaxy note is 8MP. The galaxy nexus has an "instant" shutter speed though, which i think is more useful to have. The galaxy nexus also has a panorama picture taking mode, although I believe this is a feature of ICS rather than the phone's hardware.
The galaxy nexus's front camera is 1.2MP and the galaxy note is 2MP.
Other Things
* The galaxy note has a samsung written across the top, which i dislike. The galaxy nexus is "clean" and has a curved display, and a bump on the lower back which (I believe) makes it nicer to hold. It has "character" whereas the note looks more like an iphone wannabe.Â
* galaxy nexus comes with Near Field Communications (NFC). Not sure how useful that will be to me. galaxy note comes with a stylus. Not sure how useful that will be to me. But I think the stylus might see more use than NFC.
* Both have MHL ports, i.e. microUSB that also can be used as a HDMI out, and host-mode USB, with appropriate adapter cables.
* The galaxy note has a huge 2500mAh battery, the nexus has a 1700mAh battery. Under normal use, the note lasts longer, but if you watch movies you can kill the battery faster due to the larger display.
* The Galaxy Nexus has a notification LED like all good phones should. The Galaxy note doesn't — this is almost a dealbreaker. but someone's done a hack with the buttons at the bottom: Samsung GALAXY Note running bLED 0.2 blinking notifications through touchkey LEDs. Hopefully this gets integrated into CM9 later. It's not a multicolour LED like the Nexus, but I could probably grudgingly live with it.
Hmm …
Originally created with EverNote at 20120126T200300Z